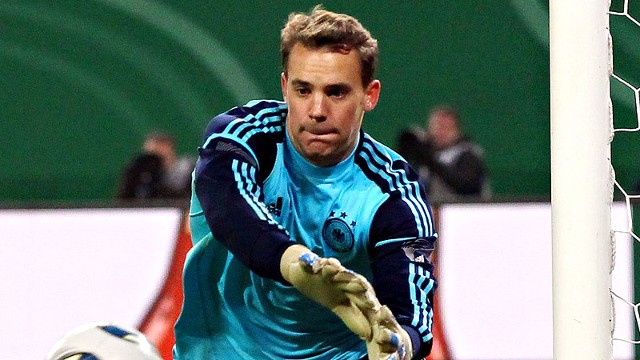 Having seized an opportunity (an injury to Rene Adler) to enter the 2010 World Cup as Germany's first-choice goalkeeper, Neuer never looked back and used a magnificent showing at the tournament as a springboard to further success. The 26-year-old caught the eye of many during the event in South Africa and has retained the German No. 1 spot ever since.
In 2011, Neuer made the leap from Schalke 04 to rival Bayern Munich, leading to a hostile reception from his new supporters upon arrival. But a new record set for the longest unbeaten run in the club's history soon saw fans getting behind their new stopper, who is undoubtedly Germany's best keeper since Oliver Kahn.
Neuer is an imposing figure and commands his area brilliantly to deal with balls crossed in from the flanks. Despite his broad frame, he is a remarkably agile shot-stopper and has over the past couple seasons produced memorable saves to deny opponents on a regular basis. Now, for the first time in his career, the Bayern keeper will have the opportunity to display his talents at a European Championship, with his Germany side amongst the pre-tournament favorites for the title.
---
Expert's take: Arguably the best goalkeeper in the world. Now at Bayern, he has gained experience and confidence, culminating in a valiant (though losing) effort in the Champions League final. He is still relatively young for a keeper. With time on his side, he will only get better. -- Steve McManaman
---
Stats That Matter:
• Started all 10 of Germany's Euro 2012 qualifiers and finished with three shutouts
• Set a Bayern Munich record of 1,147 minutes without conceding a goal between early August and mid-October of 2011
• League-leading 17 shutouts in 33 Bundesliga matches for Bayern Munich this season
• Led Germany's Under-21 side to European title in 2009 as he started all five matches and conceded one goal
• 25 appearances for Germany since debuting in 2009, with a record of 21-2-2 with 10 shutouts (through May 18)

Conversations