#27: Christian Eriksen, DEN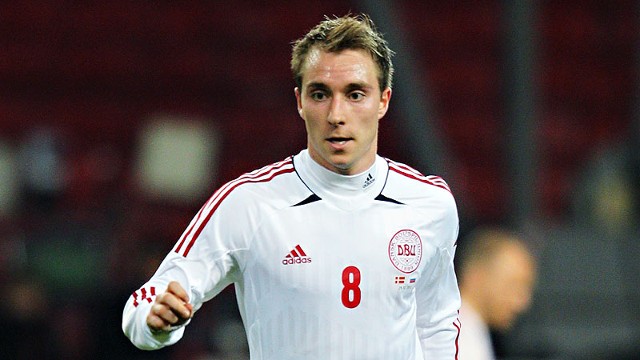 Although Christian Eriksen played two games at the 2010 World Cup, this will be the Dane's first major tournament at international level since becoming a first-team regular for club and country. The 20-year-old attacking midfielder has been turning heads over the past couple seasons, and the stage is now set for him to show that he is ready to take the next step in his career.
The talented midfield playmaker has come of age at Ajax in the past two seasons as the latest wunderkind to roll off the Dutch side's renowned production line. Signed from OB Odense in 2008, Eriksen's rise has been long-awaited, but worth every second. Under Frank de Boer, Ajax has developed a system that is based upon the club's traditions of possession and passing football, with the young Dane serving as the side's creative linchpin in midfield.
Voted the Danish Player of the Year in 2011, Eriksen has started to make an impact on the international scene, including opening his goal-scoring account during the side's qualification campaign. The youngster has shown he is not afraid of the big stage; now he must prove that he has the quality to consistently perform against high-class opposition.
---
Expert's take: You think the Eden Hazard transfer rumors are boring? Wait until it becomes clear that this latest Ajax prodigy is ready to hit the open market. Gifted on the ball and in the dribble, Eriksen's vision and pace will make him irresistible for -- and vital to -- big clubs around Europe. -- James Tyler
---
Stats That Matter:
• Seven goals in 33 league games for Ajax in 2011-12
• Won 2010-11 Dutch Eredivisie with Ajax, the club's first title in seven years
• Youngest Danish player ever to score in Euro qualification with a goal versus Iceland at age 19 in June 2011
• 2011 Dutch Football Talent of the Year and Danish Football Player of the Year
• An attacking midfielder, Eriksen has the longest shot on Ajax with an average shot distance of 24 yards

Conversations