#32: Gianluigi Buffon, ITA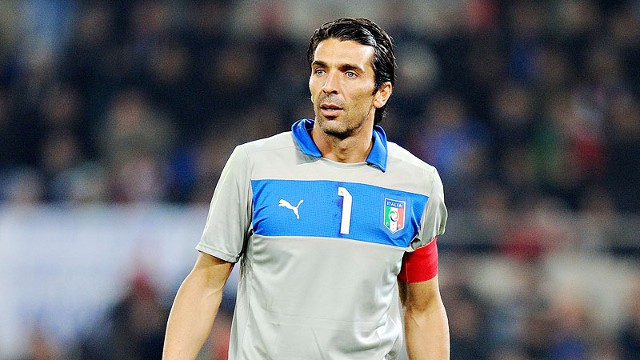 One of football's goalkeeping greats returns for another major tournament this summer as World Cup winner Gianluigi Buffon is set to appear for Italy in his fourth European Championship. Injury-riddled the past few seasons, Buffon, 34, has enjoyed a marvelous 2011-12 campaign for Juventus and will hope to bring his imperious form to Poland and the Ukraine.
Buffon's reflexes remain among the sharpest around, and he has turned in performances this season that show he is still capable of performing at the level that people have come to expect from the eight-time Serie A Goalkeeper of the Year. As with all great stoppers, parts of Buffon's game also have improved with age, and the Juventus man now exudes an aura of dominance when the ball enters his area.
Apart from his World Cup win in 2006, Buffon's experiences at international tournaments have been far from outstanding, with both his Euro 2000 and World Cup 2010 cut short by injury before, or during, the opening game. With a quarterfinal his best finish in a European Championship, Buffon will look to improve his record in 2012.
---
Expert's take: No matter the season or situation, Buffon keeps getting better and better. A dominant part of Juve's unbeaten league campaign and sure to stonewall several scorers at this summer's Euros. -- James Tyler
---
Stats That Matter:
• Played 35 of 38 games for a Juventus side that won 2011-12 Serie A as the first undefeated team in 20 years
• Juventus led Serie A this season by conceding only 20 goals, the best by any team since Serie A expanded to 20 teams in 2004-05
• Named Serie A Goalkeeper of the Year a record eight times
• Named Goalkeeper of the Decade and Goalkeeper of the 21st Century by the International Federation of Football History and Statistics
• Kept five clean sheets, had a 453-minute scoreless streak and won the Yashin Award as the best goalkeeper at the 2006 World Cup

Conversations