#39: Klaas-Jan Huntelaar, NED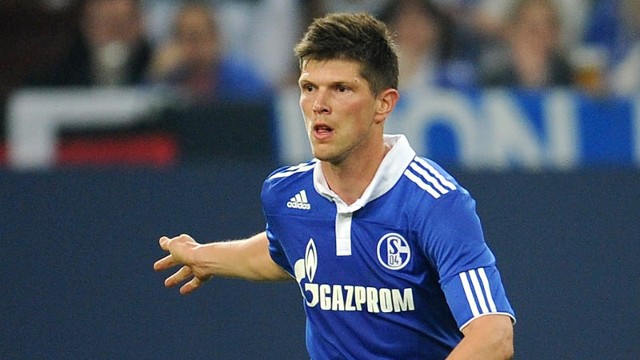 The hard-nosed forward has had to work hard to fit in the Oranje system; despite his prolific scoring clip for club (29 goals and eight assists in 32 games for Schalke in 2011-12) and country (31 in 50 appearances), Huntelaar is frequently sparring with the brilliant Robin van Persie for the right to lead the Dutch attack.
Yet the battle is a good one for the Netherlands, as Huntelaar's physicality and aggression around goal make for the perfect foil for RVP's lithe, stylish artistry. Huntelaar's relentless chases for the ball in attacking areas don't always pay off -- Huntelaar's two concussions in 2012 might blunt his push for this summer's Euros -- but there's little doubting his value in Bert van Marwijk's system when healthy.
Overall, Huntelaar is coming into peak form at age 28, leading the hypercompetitive Bundesliga in scoring and showing the form that saw him noticed at the under-21 level, where he won individual honors at the 2006 U-21 championships and is still the Netherlands' leading scorer for the "Yong Oranje."
---
Expert's Take: "What he might lack in technical brilliance he makes up for in his football intelligence and an instinct in knowing the best place to position himself in order to score goals. One of the most prolific scorers in Europe this season." -- Robbie Mustoe
---
Stats That Matter:
• Led Schalke with 29 goals this season, becoming the first Dutch player to top the Bundesliga scoring charts
• Scored 14 goals in 1,103 minutes in the UEFA Europa League in 2011-12 (averages to a goal every 79 minutes)
• Only player to score double-digit goals (12) during UEFA Euro 2012 qualifying
• One of three players with more than 20 shots on goal during Euro 2012 qualifying, along with Cristiano Ronaldo and David Villa
• PSV sold him to Heerenveen for 900,000 euros in July 2004; eighteen months later Heerenveen sold him to Ajax for 9 million euros, a tenfold increase in transfer value

Conversations