#8: Zlatan Ibrahimovic, SWE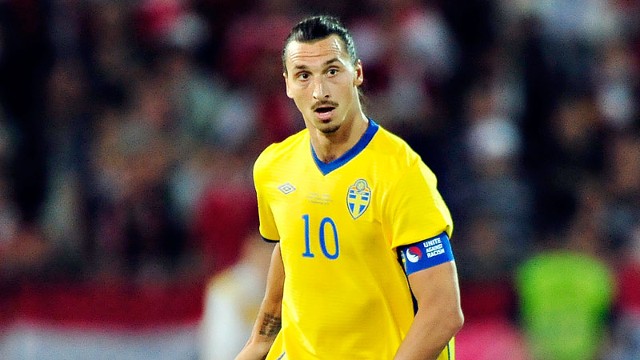 "I am Zlatan" was the chosen name for the Sweden star's autobiography last year and the title encapsulates the AC Milan striker perfectly. Ibrahimovic is a one-off, a prodigious talent who divides opinion like few other players in the world game. To some he is one of the very best; to others he is an over-hyped egomaniac.
Languid and elegant, at his best Zlatan is one of the finest sights in football. Despite his sizable frame, the Swede is capable of the kind of deft touches that one would expect from a player half his size. This makes Ibrahimovic a fearsome opponent and his career so far suggests there are few better. There are those who believe he does not perform to his usual standard when the pressure is on and that he is not a "big game" player, but the Swede's incredible haul of titles in the past few years would suggest the opposite.
Since 2003-04, Ibrahimovic has amassed an incredible eight consecutive league titles in three countries, with five different clubs. From Ajax to AC Milan, via Juventus, Internazionale and Barcelona, the Swede has left a trail of success in his wake. Indeed, at every stop on his wandering journey, he has quickly become a hero for the fans of his chosen club, with the notable exception of his one season at the Camp Nou where Zlatan never quite seemed a fit for Pep Guardiola's new Barcelona side.
At AC Milan this season, Ibrahimovic has been supreme once again. A three-time Italian Footballer of the Year, he will enter this year's European Championship off the back of his best career goal return to date. The striker sailed to a 30-plus goal haul with ease and also contributed an astonishing number of assists to the Milan effort over the past 12 months, all boding well for a star showing in the colors of Sweden this summer.
With Ibrahimovic though, nothing is a certainty. He is Sweden's best hope of achieving any kind of success this summer and his goal return for his country is strong, but there will still be lingering doubts for many over his ability to shine. The 30-year-old will be on the big stage at international level for what could be the last time and will need to take this opportunity to finally cement his status as one of European football's elite strikers.
---
Expert's take: Zlatan Ibrahimovic continually proves one of the biggest single-handed game-changers in European football. Still has more doubters than he should, still to prove he can truly affect the big games. -- Shaka Hislop
---
Stats That Matter:
• 29 goals in 75 appearances for Sweden, tied for seventh all-time with Martin Dahlin
• Led Serie A with 28 goals in the 2011-12 season, four ahead of Inter's Diego Milito. Ibrahimovic's previous single-season career high was 25 (2008-09 with Inter)
• Caught offside 22 times in Champions League play, most in the competition and seven more than the next player (Gonzalo Higuain, 15)
• Completed 513 passes in the final third this season, most of any player in Serie A
• Successfully beat defenders in one-on-one situations 71 times in 32 games during Serie A play (2.2 times per game). In Champions League, Ibrahimovic successfully took on defenders five times in eight games (0.6 times per game)

Conversations