Euro 2012 review
One for the history books
From Robert Lewandowski's opener to a record-breaking final, Euro 2012 was high on quality, writes John Brewin.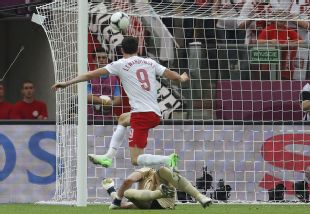 "Only the boring are bored," says the housewives' motto. Those who still find Spain tedious after their performance in Sunday's final in Kiev might need to seek medical help or perhaps find another sport to watch.
Football, despite the best efforts of its moneymen, is not yet an entertainment franchise. The aim is still getting the job done, by any legal means necessary. However, Euro 2012 was won by a team playing by far the most creative football. Few teams have dominated a World Cup or European Championship final in the fashion that Spain did. The international game has its Tiger Woods or Roger Federer - a level beyond anyone else. Should Spain play at their best, then the rest can forget about it.
Kiev and the Italians saw them at an untouchable best. Italy did not even play badly.
Cesare Prandelli spoke of his team's tiredness being a factor in their defeat, having had one day fewer to prepare for the final. Yet Prandelli's team could have been offered a week's pampering in an Alpine retreat and still not have possessed the energy to quell Spain.
The Italians actually led those ever-more prevalent possession stats at half-time in the final. Spain, derided by the naysayers for a lack of end-product, scored goals as incisively as any counter-attacking team could ever muster. That Xavi and Andres Iniesta made Andrea Pirlo look pedestrian says everything.
If the final lacked drama in terms of narrative, it supplied an exhibition of footballing quality that answered Spain's critics and instead wrote history. From being labelled dull, they are now compared to Brazil '70, the Blue Riband of international football. And despite Spain's dominance, the international game has been breathed new life by a Euro 2012 that entertained far more than South Africa's World Cup in 2010.
From Robert Lewandowski's headed opener blowing the roof off a bear-pit National Stadium in Warsaw to Juan Mata's rather apologetic closer in the dying seconds of the final in Kiev, Poland and Ukraine hosted a tournament high on quality. Przemyslaw Tyton's penalty save from Giorgos Karagounis in the first match seems an age away yet got the competition off to a remarkable start from which it continued to excite.
Pre-tournament talk of teams 'doing a Chelsea' and defending deep to wear down more gifted opponents was swiftly discredited. The defensive teams did not prosper. Ireland's setting of a 'Trap' was disastrous, and they exited with most goals conceded, and only one to their name. Their bacchanalian FA chief John Delaney was forced to seek solace in a meaningless award from Michel Platini for having the best fans in the tournament, a hollow victory if ever there were one.
The Greeks set up defensively, yet were so bad at it that they were forced to show off a hitherto unrecognised attacking facet that managed to frighten all of their opponents. And England eventually paid for Roy Hodgson's one-dimensional tactics when being passed to death by Andrea Pirlo as the inevitability of losing on penalties loomed. The image that best depicted England's exit was Joe Hart's gurning visage as he childishly, and in vain, tried to put off Azzurri penalty-takers. It was ugly and by no means effective.
We were also reminded that football is not a game for the soloist in the departures from the competition of both Portugal and Netherlands. Cristiano Ronaldo's cult of himself got Portugal to the semi-final but then denied them progress when he was assigned the money shot that could never be cashed in during the shoot-out with the Spanish. Netherlands reverted to the selfish type of squabbling, so that while Wesley Sneijder often played wonderfully his team grumpily came apart at the seams.
The French also kept up their end in the in-fighting stakes. Their fall-outs were not quite as spectacular as in South Africa, but in Samir Nasri they had a snarling and foul-mouthed poster-boy for their petulance.
If there was a downside to the tournament it is the lack of progress to the knock-out rounds of the twinned hosts. Neither Poland nor Ukraine were quite good enough to get out of groups that were hardly blessed with quality, though champagne moments were supplied for both. Jakub Blaszczykowski's goal against the Russians was sublime; a captain's goal wreathed in symbolism. And Andrei Shevchenko's brace against the Swedes rolled back the years to a time when he was Europe's best striker, only for him to fade into the shadows as his team started to misfire.
Both, though, can be happy with the support their fans supplied, not only to them but the whole tournament. Poland were always the best supported team at any game in their country while the loudest chant that could be heard at Kiev's final was for 'Ukrainia'.
And then there were those with ideas above their station: Russia exited in arrogant complacency; the Germans meanwhile, saw Euro 2012 as their destiny, the moment when the development project that began after Euro 2000 would bear fruit. Over-confidence got the better of them. Kiev was full of rather lost-looking German fans for the final weekend.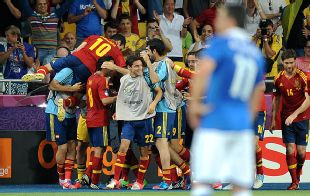 "Our players are chosen by god," was how one fan had described the Nationalmannschaft to a pair of dumfounded fellow journalists ahead of the semi-final. Yet Italy took apart their best-laid plans, throwing into question Joachim Low's rotation process in the previous game against the Greeks. It has given the Germans an inferiority complex they clearly feel uncomfortable with.
All the time, we waited for the Spanish to fire. It was clear they had the greatest talent and the deepest knowledge of victory. Yet there were moments of genuine doubt. Croatia almost pulled off their gameplan of frustrating and then pouncing. Had Ivan Ratikic's header been better from Luka Modric's wondrous pass, then Spain would have been out of the tournament.
Portugal almost bored the Spanish to death by flooding the midfield, and got Ronaldo his big chance, only for his left foot to let him and his country down in the last minute. And the Italians gave them perhaps their toughest tactical test of the tournament in the opening match as Vicente Del Bosque unveiled his maligned but ultimately victorious 4-6-0 formation.
Three weeks on, after a tournament where both Poland and Ukraine have played wonderful hosts to some thrilling football, the real Spain arrived. There is nothing remotely boring about them at their best.
John Brewin's Team of the tournament: (4-3-3) Buffon; Alvaro Arbeloa, Pepe, Joleon Lescott, Jordi Alba; Joao Moutinho, Andrea Pirlo, Andres Iniesta; Cristiano Ronaldo, Cesc Fabregas, Antonio Cassano
Follow John Brewin on Twitter @JohnBrewinESPN