Spain news
'Spain the model for football world'
Spanish FA chief Villar astounded by level of success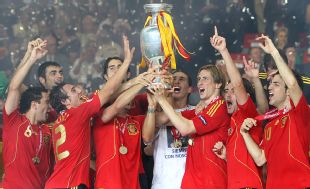 Spanish Football Federation president Angel Maria Villar feels Spain now represent the model for the world of football.
Spain are looking to make history as they take on Italy in Sunday's Euro 2012 final looking to become the first side to win three consecutive major international tournaments.
With the country also proving hugely successful at youth level, Villar says he is amazed at just how well Spain have done.
"I never thought things could get this good. Spain is now a model in the footballing world," he told Marca. "As has happened before with Brazil, Argentina, Germany, France or Italy, we've made history with our results and our outstanding play. This team already forms part of football's heritage – it has established its own era."
However, Villar knows that victory over Italy, who had been considered outsiders ahead of the tournament, cannot be taken for granted.
"Winning is going to be very difficult," he said. "We're coming up against a great team. You only need to look at their shirt to know what that team is, what it represents in football's past as well as its present.
"This is a match between the last two teams to have won the World Cup, which tells you how big this European [Championship] final is."