Del Bosque proud of Spanish style
Del Bosque proud of Spanish style
Coach says team's way of playing has attracted worldwide admiration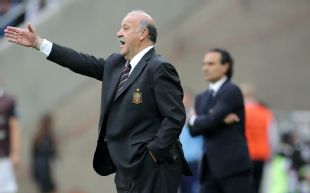 The admiration won by Spain's style of football in recent years is arguably more important than the trophies they have gathered in that time, Vicente del Bosque has said.
The Spain coach will attempt to guide his team to an unprecedented third international trophy in succession against Italy in Kiev on Sunday night.
Del Bosque, who succeeded Luis Aragones after Euro 2008, said the Spanish footballing philosophy meant the nation was continually advancing and had attracted worldwide admiration.
And he said he was looking forward to a "balanced final" against Italy after they produced a superb performance to see off Germany in Warsaw, ending a German run of 15 victories in succession.
"The certainty that our football, the football of Spain, is recognised - that's very important to us, perhaps more important than the successes and the joy that you can create," Del Bosque told UEFA.com.
"Football hasn't always been appreciated, but luckily our football is appreciated now at all levels of society. That includes having players who are role models for young people.
"Spain have enjoyed the best period of their football history in the last few years, what with the work that's being done at club and youth level. We are constantly advancing in terms of facilities, in terms of coach education and replacing foreigners with young players.
"Others also come and train here, and that shows that borders are disappearing in the world of football. There is a generation of players at the moment who understand what this country is - a country that has progressed, a country that is modern and that has put complicated ways in the past."
He said both Spain and Italy deserved to be in the final, saying "you have to like both teams." Some critics have claimed Spain's performances in Euro 2012 have been boring, but the coach insisted his team "hope to act boldly at the start of and during the game."
"There are a lot of parallels between Italy and Spain," he said. "We were in the same group, in either the quarter-finals or semi-finals we went through on penalties, and Pirlo and Ramos scored Panenka-style penalties. You have to like both teams. We both deserve to be finalists."