Euro final preview
Who is the fairest of them all?
Michael Cox says the tables appear to be turning as Italy look to strike a blow for the beautiful game against Spain
At first glance, Spain vs Italy isn't a classic rivalry. It lacks the obvious geographic tension you get from a Spain vs Portugal clash; it doesn't conjure memories of previous meetings like Italy vs Germany; and there isn't always continental pride up for stake, as in a meeting of Argentina and Brazil.
Instead, there's a more subtle conflict – a simmering, slightly sneering distrust between the two nations.
Italy are stereotypically based around organisation, a strong defence and the ability to play a variety of systems effectively. They win games in a strategic manner rather than with the best individual talents. This is a somewhat outdated cliché, but there's still a focused, driven and ruthless approach to football within the peninsula.
In Spain, things are very different. The relentless success of the national side in the past four years, plus Barcelona's ascent to becoming the greatest club side of modern times, has seen Spain finally combine style and success. Previously, there was a much greater emphasis upon the former. Spain always has produced fine football players, but while its stars were generally great entertainers, La Roja were seen as the great underachievers of international football until 2008. A reason for that – and a result of it – was that Spain took greater pride than Italy in the elegance of their game. Spanish football was something more joyous.
Fabio Capello, who had success as a coach in both countries, sums up the differences. "When Italian footballers are on the pitch, they would rather be somewhere else," he says. "To them it's a job. It's not fun, not a game. When I was at Real Madrid, training would end and everyone would stay and eat, get a massage, go to the gym together... In Italy, they'll stay as long as they have to, and then they'll go. We don't have that joy inside us."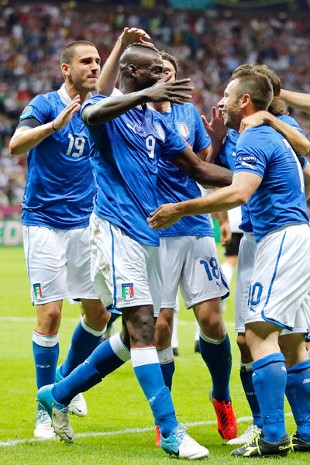 The differences are noted within the two countries, and each side criticises the other. Italy traditionally sees Spanish football as a little flimsy but, more obviously, Spain sees Italian football as dull and cynical. In Spain, a side being described as "Italian" is a criticism. For example, when Spain were defeated by England at Wembley last year in a remarkably defensive performance from Capello's side, Madrid-based newspaper Marca said England were "turning Italian". It wasn't a compliment – although, of course, England wouldn't have been described that way had they lost. That Italian ruthless streak is implicitly acknowledged and respected, if not admired.
Tracking the reactions of the two countries' respective sports media throughout this tournament has been enlightening and suggests that, while the rivalry is still present, the tables are turning in terms of style. Following the 1-1 draw with Spain in the group stage, Italian newspaper Corriere dello Sport led with "Yes, Italy, you are beautiful!" The focus wasn't just upon the result – an unexpected point – but the style. "Bell'Italia!" was La Gazzetta dello Sport's headline, and underneath, "That's the way we want you". Cesare Prandelli's mini style revolution has been very welcome.
After that group-stage match, Spanish newspaper AS opined that Spain "shouldn't rule out meeting Italy again in the final". Wise words, but more interesting has been the appreciation of Italy's style – and Andrea Pirlo, in particular – that has yielded received rave reviews in Spain. "He is an independent artist, the last great creator of the Italian school," Marca suggested. "It's not for years that Italian football has had a player with the class and talent of Andrea Pirlo, the architect of Prandelli's attacking Italy." The stated timeframe is questionable – Pirlo's been playing for his country for a decade – but the point is obvious. This Italian side, unlike so many before it, is appreciated in countries that favour beautiful play.
Meanwhile, Italian newspapers have criticised Spain's lack of entertainment. "Good, superb even, and unbeatable, but the champions are a bore," La Repubblica said after Spain's 2-0 win over France. "Tremendously boring," Corriere dello Sport agreed.
Granted, this is just newspaper talk and won't affect Sunday's scoreline, but it sums up attitudes and reflects the changing identities of the two countries' national teams. Prandelli is not a typical Italian coach; he has introduced an overall, cohesive philosophy revolving around ball retention and passing. Pirlo has been a fine player but, outside Italy, he's never received such acclaim.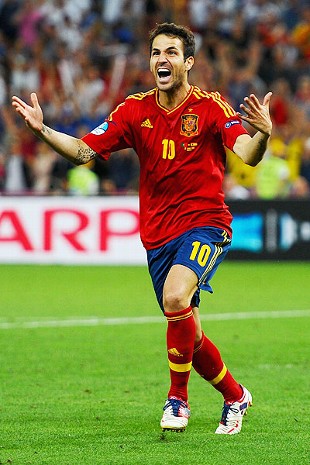 Spain, on the other hand, has become more cautious. Their ball retention is highly impressive and is the most proactive way of being a defensive side – but that is what La Roja are. Their record of nine consecutive clean sheets in the knockout stages of international tournaments is astonishing but, in seven of those nine games, Spain have scored only once or not at all.
This is by far the most successful national side Spain has ever produced and it's no coincidence that it is also the most driven: once you have success, you can't settle for being stylish. Anything less than being champions is regarded as a disappointment for Spain, and consequently it's played with restraint and caution – maybe at times even with fear. It's difficult to imagine a loose cannon like Mario Balotelli getting a start for Spain, even if he was considered good enough technically. It's worth noting that Spain won't score a goal like his supremely confident second goal against Germany. Spain have lost that freedom and unpredictability in exchange for their remarkable success.
Two years ago, Spain triumphed over Netherlands with a profoundly Dutch style of play. Whereas Bert van Marwijk's side resorted to physicality and brutality, Spain's play was based around the Barcelona philosophy that owes so much to two Dutchmen, Rinus Michels and Johan Cruyff. This weekend, they could be in for a taste of their own medicine – not only are Italy an effective team, but even Spanish fans must agree that their now a beautiful team, too.