Italy news
Cassano: Balotelli must behave
Urges Italy strike partner to show maturity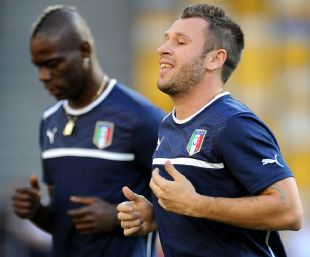 Antonio Cassano has urged his Italy strike partner Mario Balotelli to control his aggression during the Euro 2012 final against Spain.
Balotelli, who scored a brace against Germany in the semi-final, will spearhead Italy's attack in Sunday's final as the Azzurri aim to win their first European Championship since 1968. But Cassano insists the volatile 21-year-old must harness his "fire" in order fulfil his potential.
"Balotelli is young and still needs to mature," Cassano said. "He is also emotive and sometimes his temperament can be his own worst enemy. But he has fire in his stomach and it makes him strong, so you have to be careful how you handle him.
"To tame him would be wrong, though he has to learn to control his emotions and direct them in a positive way. Only he can decide whether he wants it all or whether it all goes to waste. I have great empathy with him and know how hard it is, especially when occasionally you think the whole world is against you.
"But at the moment Balotelli is on top of the world, very focused and dreaming of making Italy champions. As a strike partnership we are working very well together and giving Italy self-respect in difficult times."
Cassano, no stranger to controversy himself, has battled his way into Cesare Prandelli's side after suffering a stroke last year due to an abnormality in his heart. After enduring a topsy-turvy time on the international stage, Cassano says taking the field in Kiev on Sunday will mark a career highlight.
"Reaching this final will mark the most important point in my career," he said. "I never thought it would happen. I am just grateful to be here. I never lose sight of how lucky I am.
"It has been a long battle back to fitness but I never expected this. It was really just a distant dream."
A week prior to the tournament, Italy became embroiled in a match-fixing scandal which resulted in defender Domenico Criscito leaving the squad. Cassano, though, insists Italy have used the controversial circumstances to their advantage.
"The sad thing is we are making headlines for all the wrong reasons because of these match-fixing allegations," Cassano said. "But this is the perfect opportunity to make them for the right reasons, to show the world Italy can also make headlines for sporting success rather than scandal.
"Naturally, it has had an impact on the team because we are normal people. But, in a way, it has given us a greater incentive to do well and make Italian people proud.
"We are under no illusions we face a difficult match against Spain. In the group phase there was nothing between the two teams in a 1-1 draw. But now the circumstances are completely different. It's all or nothing.
"I think the first goal will be decisive. If we can open the scoring, I'm convinced we will be champions. In Andrea Pirlo, we have the only candidate for Player of the Tournament if Italy win. He plays like a juvenile, full of strength and quality.
"Yet it would be unfair on the other players to say that Pirlo, Gianluigi Buffon and Balotelli have carried us to this point. We fight as a team, win as a team and, if it happens, we will lose as a team.
"I know many of the Spanish players well and they take great success and experience into the final. There will be nerves and there will be tears. But, for Italy, I hope they are tears of joy."