UEFA news
Euro 2020 could be Europe-wide
Michel Platini confirms radical idea 'will be discussed very seriously'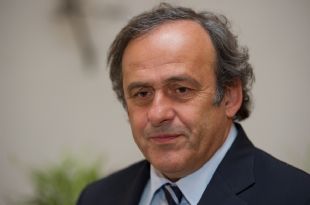 Euro 2020 could be held in "12 or 13 cities" across the continent, the UEFA president Michel Platini has said.
Platini said a decision on the radical idea of a tournament "all over Europe" would be made in December or January, and it is believed UEFA executives back the propsal.
Turkey had been seen as favourites to host the 2020 tournament, but their bid has hit difficulties because the Olympics could yet be held in Istanbul in the same year.
Platini said the proposal of scattering the 2020 tournament throughout Europe was "an idea we are considering," confirming: "The Euros in 2020 could be held all over Europe.
"It could be either one country and 12 stadiums or one stadium in 12 or 13 cities. This idea will be discussed very seriously.
"We will have a great debate about 2020 and discuss the pros and cons, then we will make a decision. I think it is a great idea.
"We are not going to wait until we know whether Turkey are going to get the Olympics. It creates a problem for us. We do have other candidates. Everyone has the possibility to host it.
"It is easier to go from London to Paris or Berlin than Cardiff to Gdansk. It would be four games per venue. It is a great debate.
"The political decision needs to be made. We wouldn't have to build stadiums or airports. That could be important in an economic crisis."
Denmark legend and Euro '92 winner Peter Schmeichel was among those to give early backing to the idea on Twitter.
"Needs to be organised so fans don't have to travel too much, but the general idea is appealing to me," he wrote. "For argument's sake, a group could be played in Brussels, Paris and London - travelling would be less than Euro 2012. For it to work, UEFA must make fans' needs the No1 priority. If not, it will never work."
Former Liverpool manager Rafa Benitez has also thrown his weight behind the proposal, saying: "My experience, when you talk about finals, is it's a mess. When you have a lot of teams in one or two cities it's a mess, so the idea to play in different cities I think could be good.
"Maybe it's a good option for the future, in terms of having more facilities, and it will be easier for the fans also to go to one place or the other."
Looking ahead to Sunday's Euro 2012 final between Spain and Italy, Benitez said he felt the Spanish players were tired and the result would come down to their mental approach.
"You have eight, nine players that play for Real Madrid and Barcelona and that means they were competing until the end, so everyone is a little bit tired," he said.
"I think the final will be more about motivation and more about fitness. We talk about Spain not playing well, but to win every year is not easy."
The European Championship will be a 24-team competition by 2020, with the increase in numbers taking effect in France in four years, and Platini said: "I didn't take the decision, but I am not worried about it. We had three World Cups with 24 teams, so I don't see that as a problem.
"If you consider Norway, Serbia, Belgium and Scotland, plus some others, we have enough good teams for a 24-team competition."
Platini also reiterated his opposition to goal-line technology, saying: "Where do we stop? There was a mistake in the Ukraine-England game [when Ukraine were not awarded a goal despite the ball crossing the line]. But there was an offside before that."
The UEFA general secretary Gianni Infantino backed the system of having additional match officials behind the goals, saying there was "full support" for it to continue.
"The experiment has been extremely positive. In over a thousand matches, there has been one mistake [the Ukraine decision].''
Infantino announced that the Millennium Stadium in Cardiff would host the UEFA Super Cup in August 2014, with Tblisi, in Georgia, hosting in 2015.