Germany 1-2 Italy
Italian press embrace super Mario
Azzurri striker wins over the media with semi-final brace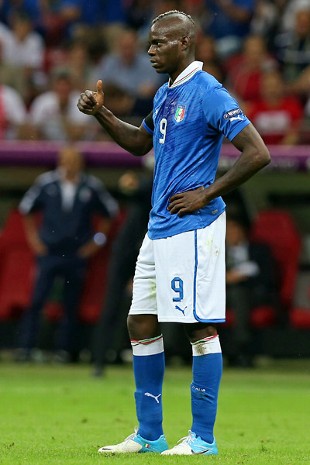 Two-goal hero Mario Balotelli labelled Italy's 2-1 semi-final victory over Germany as the most wonderful night of his life and the Italian press have subsequently heaped praise on the controversial striker.

Balotelli had been the focus of intense scrutiny at the tournament, and was said to have had a bust-up with his manager Cesare Prandelli after being dropped for their final group game with Ireland, but has won over the media in his homeland with his match-winning performance in Warsaw.

Newspaper Gazzetta dello Sport, which issued an apology after a controversial cartoon of Balotelli featured in its pages earlier this week, screamed "It's us!!!" on the front page, followed by the sub-headline: "Super Balotelli, the whole of Italy celebrates."

Balotelli, playing in his first major tournament, had not impressed in the Azzurri's group games in Poland and Ukraine although he did score against the Republic of Ireland. However, he stole the limelight against Germany with his best ever performance for the national team.

Corriere dello Sport adorned its front page with a photograph of Balotelli celebrating after scoring his second goal with the headline: "Giants of Italy" and "Balotelli amazing."

Corriere's editorial believes the Azzurri's win could not have come at a better time for the country and for the sport.

Italy is struggling with the worldwide economic crisis while the Azzurri went into Euro 2012 with the match-fixing scandal having hit the nation's football leagues.

Corriere wrote: "Happiness is restored to the country."

Turin-based sports newspaper Tuttosport showed a photograph of Balotelli, noting his sublime performance: "Fabulous goals by Balotelli."

National newspaper La Repubblica saluted the performance, Italy's best of the tournament so far, and said on its front page: "The perfect game, Azzurri in the final - The magical night of super Mario."

National newspaper Il Messagero was also in awe of the national team's display, with a headline that read: "Magical Italy."

The paper also highlighted Italy's dominance over Germany with a sub-headline that said: "Germany defeated again with a superb Balotelli."