Spain news
Del Bosque: No biscotto regrets
Manager happy with professional approach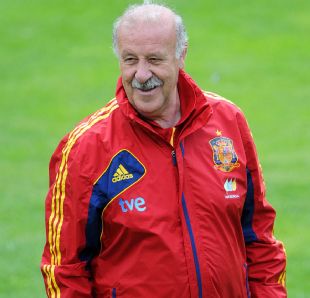 Spain boss Vicente del Bosque says his side will not regret their refusal to put Italy out in the group stage of Euro 2012, when a 2-2 draw with Croatia would have eliminated the Italians.
A biscotto, as the situation is termed in Italian, was avoided as Spain beat Croatia, allowing Italy to progress to the knockout rounds. Now, Spain will meet Italy in Sunday's Euro 2012 final.
Del Bosque, though, says his side will "never regret" their decision to go about their job in a professional manner and secure the win.
"We will never regret not having done a biscotto, not having sent Italy out," Del Bosque told Onda Cero. "We did what we had to do. We will play with our weapons and we will keep our playing style, but I would say it will be a 50-50 game. I think they will use the same team and the system from the match against Germany. We will not be conditioned by the first game, and neither will they."
Del Bosque also defended his side in the face of mixed performances: "In yesterday's [Wednesday's] match against Portugal, the threat of Nani and Cristiano Ronaldo was nothing more than a threat. There has not been any negative episode. Tomorrow [Friday], we will get back to work to recover."