Italy news
Pirlo confident ahead of final
Italy playmaker compares team to World Cup winners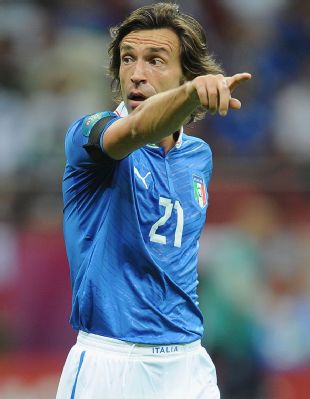 Playmaker Andrea Pirlo believes Italy's spirit can guide them to Euro 2012 glory as they prepare to take on Spain in the final.
Pirlo was again instrumental for Italy in their 2-1 semi-final triumph over Germany on Thursday evening, as he controlled the tempo of the match from midfield.
A brace from Mario Balotelli sealed the Azzurri's place in the decider, and Pirlo insists the team must now seize the opportunity to claim their first European Championship title since 1968.
"[Not to win] would be like going to Rome and not seeing the Pope," Pirlo said.
"We are convinced that we will have a great match against Spain. But if we want to have a chance to win, we will need to show the same spirit and desire we showed tonight and in the match against England.
"After the 2006 World Cup, we had some problems in the national team because successes were not coming. Now, we have reached the final."
Indeed, Pirlo sees similarities between the squad which lifted the World Cup in Germany six years ago and the side aiming for an equivalent feat in Kiev.
"The feelings are more or less the same," he said. "There is the same desire to win and also some youngsters who were not in the squad in 2006."