Portugal news
Postiga: Portugal can be proud
Portugal striker says team gave their all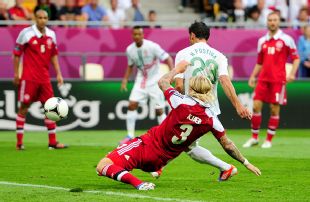 Portugal striker Helder Postiga says that his side can hold their heads high after their semi-final penalty defeat to Spain sent them home.
Postiga could not play in the match due to injury as a 0-0 draw was settled from the spot, with Joao Moutinho and Bruno Alves missing before Cesc Fabregas netted the winning penalty. However, he believes that his team-mates can head back to Portugal in high spirits.
"Portugal demonstrated a great desire to win but unfortunately the match was decided on penalties," the 29-year-old told reporters. "We didn't have the luck of previous competitions but we have to keep our heads held high because the players gave their all on the field and brought honour to Portugal.
"This result and the campaign should make the Portuguese proud. Now it is time to carry on working, it's time to recover and start thinking about the next challenge."