Spain news
Casillas: Let's reach more finals
Keeper says claims Spain are 'boring' have brought team closer together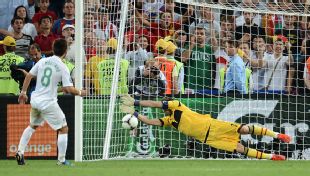 Spain are united in their desire to win a third successive tournament before going on to reach as many finals as they possibly can, their goalkeeper and captain Iker Casillas has said.
Vicente del Bosque's side got through to the Euro 2012 final after a nervy penalty shoot-out victory over Portugal on Wednesday, and now wait to see whether they face Italy or Germany in their quest for an unprecedented hat-trick of international honours.
Casillas insisted he and his team-mates were unfazed by critics who have hit out at Spain for being "boring" during the tournament, saying the criticism has helped to bring the team closer together.
"We're fighting to go on reaching finals as we've done now," he said. "This team has come together through a lot of hard work and faced criticism.
"I don't care who we play in the final - the important thing is that Spain are there."
But he warned that, after squeezing through on penalties, the Spanish could not necessarily expect their shoot-out luck to hold.
"In the end we were lucky, because penalty shoot-outs are actually about luck," he said. "We were rewarded after 120 minutes of suffering. We'll definitely remember this moment when we no longer get the luck and go through."

Speaking on Wednesday, Andres Iniesta also defended Del Bosque's men against claims their possession style of play was boring.
Their 4-0 group victory against Ireland apart, Spain's games have been seen by some observers as lacking in excitement and goalmouth incident.
But Iniesta said defensive opponents were to blame, adding: "Football's so great because not everyone likes the same thing - we don't have to all agree on everything.
"For us, the play that we have, the way we have of doing things, is what has led us to our success, to winning titles.
"All opinions should be respected, but when a team always wants to attack against an opponent who is only trying to stop you hurting them, football is not as attractive as when the game is open, with two teams who are looking to win."