Italy news
De Rossi denies bust-up
Plays down on-field argument with Balotelli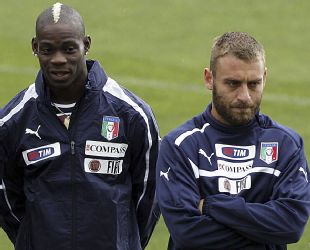 Italy midfielder Daniele De Rossi has dismissed talk of friction within the squad following his on-field argument with Mario Balotelli.
De Rossi and Balotelli shared a heated exchange at half-time of their quarter-final with England in Kiev on Sunday. However, despite reports of a dressing room fight between the pair, De Rossi insists the relationship between he and Balotelli will not have a negative affect on the team.
"Yes, at the end of the first half [of the quarter-final] we had words," De Rossi said. "Perhaps we might have shouted a bit louder because there was a lot of adrenalin, there was a lot of noise from the crowd.
"We were far away from each other so you had to raise your voice. But there are no problems whatsoever. All the talk of fights between us, that's not the case.
"We went into the dressing room and were talking only about what we were going to do in the second half. And Mario was even better in the second half. I thought he was terrific against England.
"So no, I don't think Mario is a difficult character at all. I certainly don't have to make any extra effort there - he is one of the squad, nothing more, nothing less.
"And I think we only speak about Balotelli a lot because he is a very good player. He has proved a handful for defences. Some people think he's crazy but we are all behind him. Let's just see how crazy he goes if he scores the winning goal that takes us to the final."
After progressing to the final four courtesy of a tense penalty shootout win over the Three Lions, Italy will be hoping take their chances during the 90 minutes when they take on an in-form Germany side. De Rossi, who is in some doubt for the semi-final, believes composure is the key.
"We can't afford to waste chances like we did against England," he said. "The game should never have gone to penalties.
"And the confidence drains out of you when it reaches a climax like that. You can practise penalties all day but under pressure, in a red-hot atmosphere, it's completely different.
"Only [Andrea] Pirlo had the coolness to take a penalty with such calmness - the rest was left to chance. But it would have been a massive injustice if we had gone out. We have to make our chances count. We cannot afford to be so charitable against Germany.
"People expect Italian teams to defend and build slowly but we have been anything other than predictable. We have played quite open when the chance presents itself. Germany are a big threat. They are a side in the ascendancy and we are not taking anything for granted.
"We know we will have to be at our best to beat them. But we haven't come this far to go out now. Before the tournament we could only dream about reaching the final. Now we are just 90 minutes away."