Portugal (2) 0-0 (4) Spain
Bento: We can be proud in defeat
Portugal lose to European champions in shootout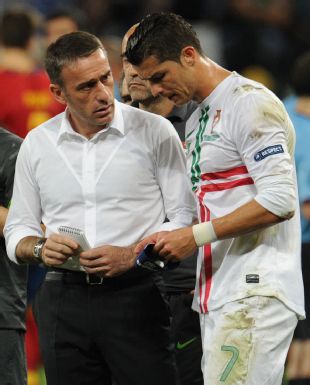 Portugal coach Paulo Bento said his players could hold their heads high after taking defending European champions Spain to a penalty shootout in their Euro 2012 semi-final.
After a 0-0 stalemate in Donetsk, Portugal eventually lost 4-2 on spot kicks, with Joao Moutinho and Bruno Alves failing to find the back of the net before Cesc Fabregas scored the winner for Spain.
Portugal held their own against Vicente del Bosque's side and although their high-tempo game suffered as fatigue set in late on, the Selecao held on for penalties.
Bento said: "If I had to choose a way of losing I wouldn't choose this way. We have in my opinion played a very good tournament. Spain is a great team and we can leave the pitch with our heads held high."
However, the Portugal boss rued his side's missed opportunities, saying: "I think we were the better team but we couldn't take our chances.
"Spain were stronger in extra time but we could have won it in the first 90 minutes because we were very good in the first half and at the end of the second half.
"We can be sure we can compete with any team in any tournament at any level. We know how to compete and that's what we've shown.
"Spain really deserve to be in the finals but, at the same time, I want to thank and praise my players for what they have shown in this tournament."