Portugal (2)0-0(4) Spain
Spain conquer Portugal, self-doubt
Roger Bennett on how mortal Spain still made it to the final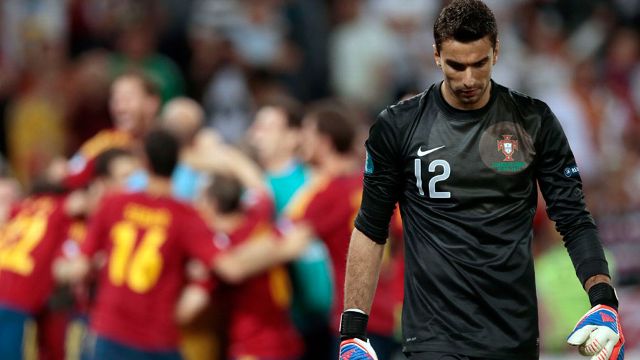 A bruising semi-final encounter in Donetsk was won by Spain on penalties and amazingly it came in a shootout that didn't feature Cristiano Ronaldo, who was waiting his turn before Cesc Fabregas won the match for La Roja. The game saw more yellow cards (9) than shots on goal (7) and was not always easy on the eye, but Portugal will draw satisfaction that even in defeat, they made Spain look mortal, for one evening at least.
Spain, which has spent the week defending accusations about its "boring" style of play, went and surprised us. After flip-flopping agonizingly between a "False Nine formation" with Cesc Fabregas and playing Fernando Torres, a striker with false confidence, coach Vincente Del Bosque summoned Alvaro Negredo, who had racked up just one minute of tournament play to that point, to start in a European semi-final – a game, no less, that Del Bosque described as the "most important in the team's life."
Del Bosque had clearly been thinking about the shin-splitting physicality of Portugal's center backs, Bruno Alves and Pepe, and hoped the rugged 6-foot-1 striker could provide added aggression. The manager was to be disappointed.
Portugal's work-rate was the story of the first half. Once their nerves settled, the side used a mix of the high press, a voracious hunger and controlled physicality to repel the Spanish midfield. Faster and stronger to the ball, Raul Meireles was particularly impressive. Spain looked uncomfortable and uncharacteristically rushed in possession, forcing passes, or trying to play long balls with imprecision. Gerard Pique turned the ball over on the edge of his area repeatedly as if he had been watching England game tape. The "Oles" screamed by their fans were less in celebration and more in an effort to instill confidence in their team. Annoyed, confused, and at time nervy, Spain's 56% first-half possession rate, a precipitous drop off from their 68% average, told its own story.
Donbass Stadium was noticeably empty giving the semi-final a surreal atmosphere in which chants of Russian fans persistently screaming their country's name were the loudest of the night. For long spells you could actually hear the confused Spaniards cuss at each other as their passes bobbled out of bounds.
Portugal's team play proved it was no one man team, but the noise level in the stadium raised whenever Ronaldo received the ball. His first contribution of merit came in the 13th minute as he drove down the left flank, firing in a cross which keeper Iker Casillas plucked out of the air as Nani and Hugo Almeida menaced. Ronaldo's best chance came on the half hour mark as he controlled the ball in space on the edge of the area only to scuff a shot wide of the goal.
Spain was out of sorts, the Negredo experiment never quite clicking. For much of the first half the striker cut a peripheral figure. When Spain broke, and the midfielders buzzed around, he stuck out like a malfunctioning piece of machinery. Negredo's one moment of note came in the 29th minute when he emerged out of the shadows to chase down a long ball from Xabi Alonso. Negredo's hold-up play allowed Spain to work the ball around the box to find Iniesta whose shot just cleared the crossbar.
At the half-time whistle, it felt like we had watched a one-man team after all – only it was Spain, and Andres Iniesta had been its single threat.
By the 52nd minute, Del Bosque had seen enough. Negredo was hooked, and fired-up Fabregas charged onto the field. Jesus Navas replaced an out-of-sorts David Silva ten minutes later. With their midfield reinforced by the addition of an extra man, La Roja began to ease themselves into their familiar well-worn rhythms. Portugal stepped up the physical side of their game, picking up five yellow cards in regulation.
With the hapless Almeida generally ineffective up front for Portugal, Paulo Bento's team became more direct, firing the ball towards Ronaldo on the break at every opportunity. Alvaro Arbeloa played him as tight as possible, and with Alonso providing support they had him covered. Ronaldo was reduced to flinging himself at his opponents as if winning a free kick in a dangerous area was more valuable to him than a run on goal. The ploy worked twice. Yet after the drawn-out theatrics of the set up, he had his moment in the 71st minute when he drew a foul. But his effort flew tamely over the bar. Ronaldo is yet to get a free-kick on target at Euro 2012.
Ronaldo was to have one more chance to seal the game in regulation. Played through by a charging Meireles, he spanked the ball wide. A shoddy miss, and one that drew goading chants of "Messi, Messi" from the small cluster of Spanish fans behind the goal.
The game had degraded as a spectacle by the end of the 90 minutes. Spain had the better of the extra time, creating four of its ten chances in the 30 minutes as Portugal tired. The Spanish moved the ball diligently, but without a focal point in the area they were not able to hurt the Portuguese. Another bright spot for Spain, Jordi Alba, was able to fashion a scoring opportunity for Iniesta. But keeper Rui Patricio parried the ball with style.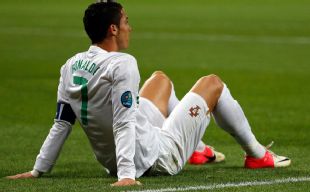 In penalties the crowd finally came to life. After the goalkeepers traded athletic saves, Patricio stopping the set-piece specialist Alonso and Casillas matching the feat against Joao Moutinho, Iniesta and Pepe and Pique executed deftly. The critical moment came when defender Bruno Alves was setting up to shoot, only for Nani to wave him off. Nani converted in showboat style, but the move would come back to haunt Portugal. Sergio Ramos delivered the evening's now requisite 'Panenka' before Alves lumbered back to the spot. With his adrenaline pumping, he fired a shot off the cross bar.
A relieved Fabregas then drove home the winner.
Portugal were eliminated without team star and captain, Ronaldo, ever taking to the spot. Spain progress to Sunday's final to defend its title.
It remains to be seen how physically and emotionally drained La Roja will be after this long, hard slog but they will know that tonight, they conquered both Portugal and self-doubt.
Roger Bennett is a contributing writer for ESPN The Magazine and ESPN.com. Follow him on Twitter @rogbennett.