Germany v Italy
De Rossi a doubt for semi-final
Italy midfielder "will do everything in my power" to be fit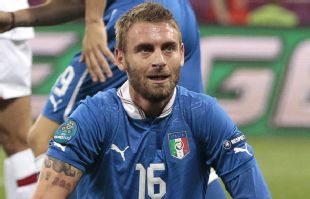 Italy midfielder Daniele de Rossi remains an injury doubt and will face a late fitness test on his injured back ahead of Thursday's semi-final against Germany.
The influential midfielder was one of the star performers in Italy's quarter-final victory over England and has played in every match during the tournament thus far, even filling in as a centre-back during the 1-1 draw against Spain.
The 28-year-old Roma star, who is suffering from a sciatic nerve problem, has the reputation of soldiering on through injury and asked if he would do the same against Germany, said he would do everything he could to make it onto the pitch.

"It's not that I'm a warrior. I'm a professional. I would never give up the opportunity to play," De Rossi said. "I have a bad back but I have a lot of faith in myself and I'm confident that I can make it.
"We will have some late fitness tests but I will do everything in my power to be fit for tomorrow."
Italy had to play extra-time and endure a penalty shootout to get past England in the quarter-finals but coach Cesare Prandelli dismissed fatigue as an issue ahead of the semi-final at the National Stadium, Warsaw.
"We are full fit both mentally and physically." Prandelli said. "I don't think we can have any negative thoughts in our mind. We can't think we are even a little bit tired."
Favourites Germany head into the match with an extra two days rest, so De Rossi believes that retention of the ball will be key to his side's success.

"The only thing we have at our disposal is to keep the ball," De Rossi said. "If they press us high up the pitch the only way to deal with this is to keep the ball and keep possession.
"Germany are very organised and know where to press on the pitch. It's going to be another historic game tomorrow."
Prandelli said the final would remain a "pipe dream" if Italy did not stay fully focused on Thursday's match but insisted that his side had the tools to do the job against Germany.
"Like Daniele said, we have one particular weapon," he added. "We can't sit deep like we used to, we have to stick to our new philosophy. We might even risk a little bit."
Juve centre-back Giorgio Chiellini and full-back Ignazio Abate will also undergo late fitness tests.