Spain news
UEFA denies tribute refusal
'No Spanish FA request for minute's silence for Miki Roque'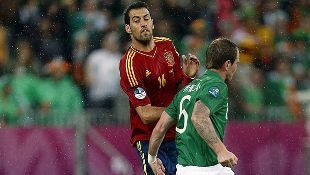 UEFA has denied reports that it refused Spain permission to hold a minute's silence in memory of defender Miki Roque before the semi-final against Portugal on Wednesday.
It was reported that UEFA had been approached by the Spanish football federation for permission to hold the tribute to the former Under-19 international, who died at the age of 23 on Sunday. He had been suffering from cancer.
Roque was diagnosed with pelvic cancer after having a routine check-up on a back problem last year. Sergio Busquets, Sergio Ramos and Cesc Fabregas led tributes to him from within the Spanish squad.
Spain players were reported to have expressed hope that a minute's silence could be held, but UEFA denied that any such request had been made by the Spanish football federation.
On its official Twitter page, UEFA posted: "Further to reports mentioning the alleged refusal of UEFA to allow a minute's silence in memory of Spanish football player Miki Roque, UEFA would like to underline that it has never received any such request from the Spanish FA and that articles reporting its rejection by UEFA are therefore totally unfounded."
In an open letter released earlier this week, Busquets wrote: "After hearing the tragic news, I want to give all my support to friends and family of Miki Roque. A great person, sportsman, an example for all, but above all a great friend has left. I will never forget the moments we shared.
"I'm in shock, life is unjust - but I now only have one thought: to do all I can to dedicate a win here to him. RIP Miki."