Euro 2012 news
Eusebio leaves hospital
Former Portugal and Benfica striker to return home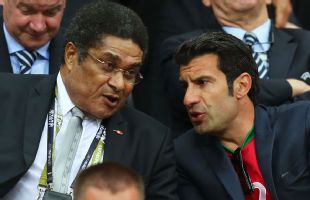 Former Portugal and Benfica striker Eusebio has been discharged from hospital after falling ill over the weekend.
Eusebio, 70, complained of feeling unwell in Opalenica, where he was accompanying the Portugal squad during their Euro 2012 campaign, on Saturday night and was taken to Poznan's Josef Strus Hospital.
He will return to his homeland on Wednesday. Hospital spokesman Stanislav Rusek told abola.pt: "He had a very good night. Today he was physically and mentally able so he was discharged by the medical team."
Portugal face defending champions Spain in Wednesday night's Euro 2012 semi-final, having seen off Czech Republic 1-0 in the quarter-finals.