Germany news
Podolski calls for end to Italy jinx
Germany without a win against Azzurri in seven tournament matches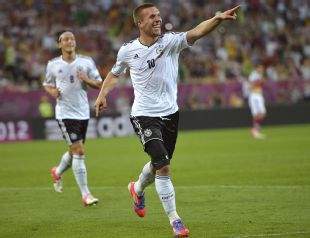 Lukas Podolski has urged his team-mates to bring an end to Germany's dismal run of major tournament results against Italy when the teams meet in the semi-final on Thursday.
The Germans go into the match in Warsaw without a win in seven previous tournament matches against the Azzurri - but Podolski believes the time is right for Joachim Low's side, who have won all four of their Euro 2012 games so far, to consign that run to the history books.
The most recent tournament clash between the two nations came at the 2006 World Cup, staged in Germany, when two Italian goals late in extra time condemned the hosts to defeat in the last four.
"It's the time to break that series,'' Podolski told Bild. "Since 2006, we have improved enormously. Today we have a whole different philosophy and a different team. The Italians also know that.
"One thing is clear - we want to be in the final, so we have to beat the Italians. Therefore, this will hopefully be the end for Italy in this European Championship.''
Podolski was left out of Low's starting line-up for the 4-2 quarter-final win against Greece, but could return for the semi-final.
On Tuesday, Low confirmed that Bastian Schweinsteiger was back to full fitness and ready to start the semi-final. Schweinsteiger had been suffering a niggling ankle problem but was able to take a full part in training on Monday.
Giving his squad a clean bill of health, the coach said: "There are only 100% fit players. No player will run out if he is only operating at 80 or 90% capacity. All players are fit - I assume Schweinsteiger will play."
Low said he would not be singling out Andrea Pirlo, who produced an outstanding performance as Italy beat England on penalties, for special treatment, saying: "That [man-marking Pirlo] would make no sense.
"The Italians have good strengths, a lot of quality. But we also know where their weaknesses lie, where they have their problems. We have to bring our own game, not focus so much on the opponents. If we manage to do that, then we have a good chance."