Spain news
Silva: Iniesta's better than Ronaldo
"Andres is magic with the ball and a great person"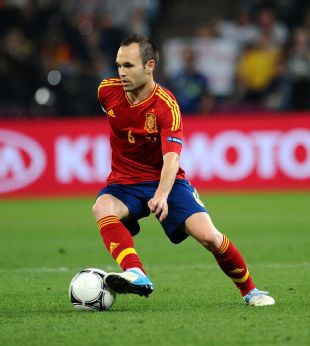 Lionel Messi and Cristiano Ronaldo are duelling for the title of world's best player, but David Silva feels they are both in the shadow of his Spain team-mate Andres Iniesta.
The pace and power of Ronaldo and skill and grace of Messi have made them the talk of global football. It is likely that they will be vying for the World Footballer of the Year award at the end of the year, with Ronaldo having almost single handedly guided Portugal to the semi-finals of Euro 2012, but Silva is convinced they have a rival.
Iniesta is a key figure for Barcelona and it is a similar story for Spain, as he has been handed an advanced role for his country. Spain coach Vicente Del Bosque is spoilt for choice in the midfield department, but Silva feels Iniesta is head and shoulders above the rest of the pack.
"The press often ask me about Messi and Ronaldo and who is the best but one thing for me is very clear," Silva said. "For me, the No. 1 is Andres Iniesta, because he is my team-mate for Spain and I can see that he is able to do even more difficult things on the pitch.
"Andres is magic with the ball and a great person, a big player for the team.
"I don't know privately Ronaldo or Messi but Andres is such a big player and character. So important."
Iniesta, meanwhile, has hit out at critics who say Spain's progress in the tournament so far has been boring.
Their 4-0 group victory against Ireland apart, Spain's games have been seen by some observers as lacking in excitement and goalmouth incident.
But Iniesta said defensive opponents were to blame, adding: "Football's so great because not everyone likes the same thing - we don't have to all agree on everything.
"For us, the play that we have, the way we have of doing things, is what has led us to our success, to winning titles.
"All opinions should be respected, but when a team always wants to attack against an opponent who is only trying to stop you hurting them, football is not as attractive as when the game is open, with two teams who are looking to win."
He said he did not believe the fact that Portugal have had two extra days in which to prepare for the semi-final would make a big difference, explaining: "At this stage what we want to do is play, not think about those two days.
"The competition is set up like that - at other times, we will have more of a break than another team. Right now, we shouldn't be thinking about tiredness - that is secondary, because we have the desire to achieve something."