Euro 2012 news
Germany fined by UEFA
Fans found guilty of 'improper conduct'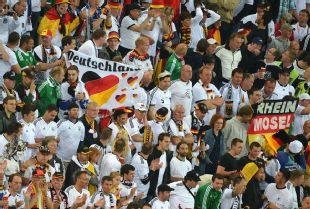 The German Football Association have been fined €25,000 by UEFA due to the behaviour of some of their fans at Euro 2012.
The German fans in question were accused of showing a neo-Nazi banner during a group stage clash against Denmark, as well as letting off fireworks and singing offensive songs. UEFA hit the DFB with the fine on Monday evening, finding the fans guilty of "improper conduct".
"The German Football Association (DFB) has been fined 25,000 euros by the UEFA Control and Disciplinary Body," UEFA's statement read.
"The charges relate to the improper conduct of their supporters at the UEFA EURO 2012 Group B match against Denmark in Lviv on Sunday 17 June.
"An appeal can be lodged against this decision within 24 hours of the dispatch of the reasoned decision."
Germany won the game against Denmark 2-1 and are currently preparing to take on Italy in the semi-finals. Previously at Euro 2012, Russia and Croatia have been fined by UEFA because of the behaviour of their fans.