Portugal news
Pereira: We can hurt Spain
Defender says Portugal confidence growing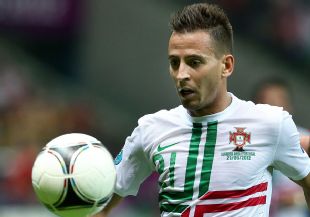 Joao Pereira insists Portugal's array of attacking talent can hurt Spain in their Euro 2012 semi-final.
The Iberian rivals will go head-to-head for a place in the final on Wednesday night in Donetsk, with a vast array of attacking talent on display.
Spain, the defending champions, brushed aside the challenge of France and are closing in on their third consecutive major tournament success.
But Pereira, who plays for Sporting Lisbon, thinks the game is too close to call with Portugal's main threat Cristiano Ronaldo, capable of taking Paulo Bento's side all the way.
"Each side has a 50% chance (of qualifying for the final)," he said. "We must have a healthy respect for Spain, but we are not going to respect them too much, because we too have great players, of great value to us."
Portugal's fortunes have turned around after their opening defeat to Germany, and they have now recorded three straight victories to seal their place in the final four.
And Pereira says Portugal's run into form has come just at the right time, considering the formidable threat posed by the world champions.
"Even if we started badly, we have improved a lot," Pereira added. "I hope we will be even more confident against Spain. It will be important not to commit errors, because they will pounce on those.
"The best thing would be to succeed in pressing them and us retaining possession. Obviously that could prove difficult because Spain love playing the passing game, and if they play with six midfielders like they have done, it will be tough to score."
Despite the confidence flowing through the Portugal camp, Pereira is sticking to the old maxim of taking each game at a time and is not yet dreaming of the final.
He said: "It is for certain that when one reaches a semi-final you think of the final as it is within reach. But we know the semi-final will not be an easy game. It is imperative not to think of the final while playing the semi-final. Normally that means things don't go well."