Spain v Portugal
Busquets: No easy ride for Ronaldo
Spain midfielder fires warning to Portugal captain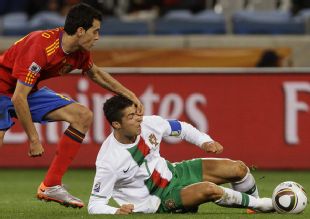 Sergio Busquests has warned Cristiano Ronaldo that he should not expect any favours from his Real Madrid team-mates when Spain take on Portugal in Wednesday's Euro 2012 semi-final.
- Alvarez: A matter of respect
Ronaldo, who has scored three goals in his past two games to help Paulo Bento's side progress, will line-up against Iker Casillas, Sergio Ramos, Alvaro Arbeloa and Xabi Alonso in Donetsk.
But Barcelona midfielder Busquets believes that none of Spain's Real Madrid contingent will be holding back in theit bid to nullify the threat of Ronaldo in the last four encounter.
"If the Real players are told to go strong into a challenge on Ronaldo, they will go strong," Busquets told O Jogo. "These aren't club clashes but national team clashes. It is a different story altogether. [However] This semi-final will not be played against Ronaldo but against Portugal."
Portugal beat Czech Republic 1-0 to advance to the semi-finals, while Spain went through courtesy of a 2-0 victory against France.