Portugal news
Portugal legend Eusebio hospitalised
Health scare for Portugal's football ambassador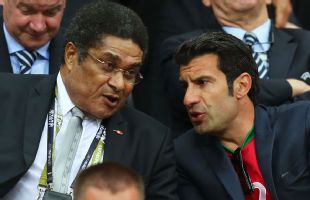 Former Portugal striker Eusebio was taken to hospital on Saturday in Poznan, where he has been watching Euro 2012 matches.
Eusebio, 70, has been in and out of hospital several times this year and requires regular check-ups as he suffers from hypertension.
"Portugal's football ambassador Eusebio felt indisposed on Saturday when he was at the hotel with the national team in Opalenica," a statement from the Portuguese Football Federation said.
"After a first observation and contacting his doctor in Lisbon, he went to a hospital in Poznan as a precaution where he is being examined."
Eusebio, who is second on Portugal's list of all-time leading scorers having netted 41 goals in 64 games for the national team between 1961 and 1973, has been watching Paulo Bento's side at the European Championship.
The Benfica and Portugal legend was pictured celebrating fervently with Luis Figo after Cristiano Ronaldo's winning goal against Czech Republic in the quarter-final.