Germany news
Podolski confident of reaching final
Arsenal forward believes Germany favourites to progress to Kiev showpiece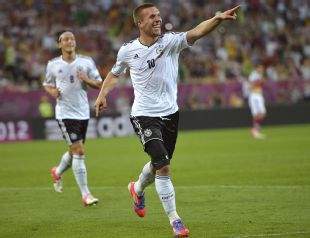 Lukas Podolski is convinced Germany will be contesting the Euro 2012 final, whether England or Italy are their opponents in the last four.
An impressive 4-2 victory over Greece secured Germany's path to the semi-finals on Friday and with Joachim Low's side now having won a record 15 successive competitive games, they certainly appear the team to beat.

England and Italy clash on Sunday for the right to face the Euro 2008 finalists in the last four and Podolski believes Germany will be favourites to progress to the showpiece in Kiev against either team.

"It could be England again - and if that's the case then of course it's no problem," Podolski said. "The last time we played England it was a great game for Germany [a 4-1 win at the 2010 World Cup], but it meant nothing because we didn't win the trophy.

"This time we are aiming for the title and we don't care if it's England or Italy we have to beat. We're confident and playing well. To score four goals in the quarter-final against Greece was good and now we want the final, that's it.

"If it's Italy or if it's England, we know we can beat them. That is the German mentality."

Despite reaching the semi-finals of four of the past five major tournaments, Germany have not won a title since Euro '96 and Podolski is determined to help end a 16-year wait.

"It is too long since we won," Podolski said. "We want to win a trophy for the fans so I hope there is a great end to this season for me and then I can look forward to Arsenal...maybe I will see some of my new team-mates in the semi-final, too.

"I am very happy to join Arsenal - but it doesn't mean I don't want to beat England!"