Portugal news
Costa plays down Portugal bust-up
Defender says 'things got a bit heated'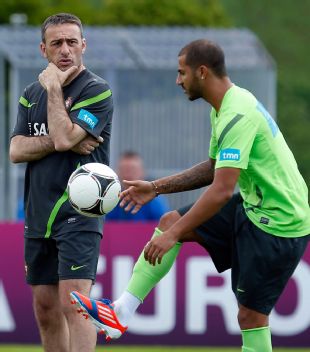 Portugal defender Ricardo Costa has played down a bust-up between Ricardo Quaresma and Miguel Lopes in training on Saturday but admits that 'things got a bit heated'.
The Portuguese press reported that the pair came to blows during one drill when Quaresma was pushed to the ground by Lopes.
It is alleged that the winger then kicked out at Lopes' legs and team-mates had to step in to prevent the situation getting worse.
Defender Costa stood in front of Quaresma to calm him down while coach Paulo Bento also got involved, but played down the incident.
"It's just normal things that happen in training," Costa said at a news conference later. "Things got a bit heated between two players. We're pumped up, we always want to win and sometimes small things happen.
"Everything's sorted now. We all want to play (in the semi-final) and sometimes stuff happens."
Having beaten the Czech Republic 1-0 in the first Euro 2012 quarter-final on Thursday, Portugal will play the winner of Saturday's match between Spain and France in the semis.