Germany news
We're the team to beat, says Low
Confident Germany make it 15 wins in a row to reach semi-finals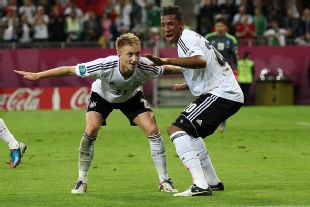 Germany believe any team hoping to win the European Championship will have to beat them to do so.
Joachim Low's side joined Portugal in the semi-finals, sweeping aside a negative Greece team 4-2 on Friday night to register their fourth win of the tournament and 15th in a row since the 2010 World Cup semi-final defeat to Spain.
Low said: "I believe we are the team you have to beat if you want to win this tournament. We have won 15 games in a row. We are the youngest team at this tournament and have great prospects for the future. I am proud of my players - it was a fantastic performance."
His confidence was echoed by forward Marco Reus, the 23-year-old brought into the starting line-up as Low shuffled his attacking options.
Reus, who hammered home Germany's fourth goal, said: "The destiny of Euro 2012 is in our hands. Our aim before the tournament was to win the title, and we have improved game by game. Like I say, winning Euro 2012 is just down to us."
The striker, who will join Borussia Dortmund later in the summer, said he did not mind whether on-song Germany faced England or Italy next.
"Personally I don't care who we play," he said. "We know that we are a strong team and we will be relaxed watching their quarter-final because we don't care - bring them on." He said he thought England had improved under Roy Hodgson, but warned: "I feel we are a better team with better individuals."
Bayer Leverkusen forward Andre Schurrle voiced similar sentiments, saying: "If we perform to our best then it is hard for any team against us, whether that be Italy or England.
"Both have strengths and also weaknesses, and we will try to capitalise. We always try to impose our own game, regardless of our opponents."