Russia news
Russian Football Union fined again
Fans displayed 'illicit banners' and set off fireworks during group game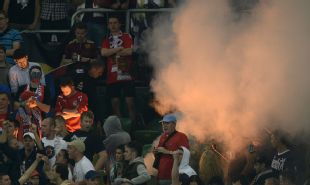 UEFA has fined the Football Union of Russia (RFS) €35,000 after Russia fans set off and threw fireworks and displayed "illicit banners" during the Group A game against Greece in Warsaw last week.
Russia went out of the tournament after losing the game 1-0, and the behaviour of their supporters resulted in yet more disciplinary action against the RFS. All Russia's games in Poland and Ukraine were marred by the throwing of fireworks and the displaying of "illicit banners," UEFA said.
On Tuesday, the RFS appealed against punishments imposed in the aftermath of their opening group game against Czech Republic in Wroclaw.
It was hit with a suspended six-point deduction for the Euro 2016 campaign, as well as a €120,000 fine, after UEFA took action against "the violent, offensive and unsafe conduct" of supporters at the June 8 match.
Violence erupted when a handful of stewards were attacked by fans in a walkway at the Municipal Stadium. Supporters also set off and threw fireworks, as well as displaying a "Russian Empire" flag – a symbol associated with the far right.
The RFS was fined €30,000 after action was brought over fireworks and banners at Russia's second game, against Poland. UEFA launched a seperate investigation into alleged monkey chants towards Czech defender Theodor Gebre Selassie.
Meanwhile, UEFA said disciplinary proceedings had been opened against the Portuguese Football Federation (FPF) for the conduct of supporters against Czech Republic. The governing body said the proceedings were over the attempted invasion of the pitch by a fan at the quarter-final in Warsaw.