Greece news
Greek duo end international careers
Nikos Liberopoulos and goalkeeper Kostas Chalkias bow out after defeat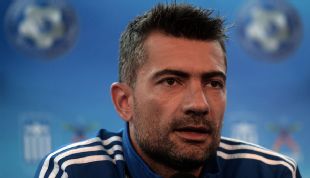 Greece striker Nikos Liberopoulos and goalkeeper Kostas Chalkias brought down the curtain on their international careers after the 4-2 loss to Germany in the last eight of Euro 2012 on Friday.
The duo said their international farewells in Gdansk, and Liberopoulos, 36, said being part of the quarter-final had been an appropriate way to finish.
The forward, who came on as a substitute to earn his 76th cap, told Greek television: "I feel blessed that I get to close this chapter among a team that are like family to me.
"It's a big honour for me. At the end of the match, I felt that I didn't want to leave the pitch. Now I will continue supporting this team as a fan."
Liberopoulos scored 13 goals in his international career. His 38-year-old colleague Chalkias was the oldest player at Euro 2012, making two group appearances, and was on the bench for the Germany game.
Chalkias, capped 32 times, said: "I am proud and happy to have participated in Greece's effort to reach the quarter-finals.
"This has been one of the best months of my career. Right now I am very emotional and proud – it was a dream finish for my international career."