Italy news
Abate fears England wingers
Defender wary of England's pacey wide men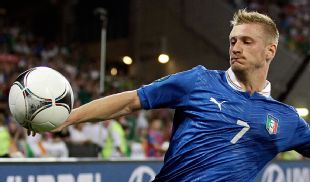 Italy will have to curtail the threat England pose on the flanks if they are to prosper in their Euro 2012 quarter-final on Sunday, according to defender Ignazio Abate.
Abate is well aware of the danger posed to the Azzurri by Ashley Young and James Milner with Arsenal pair Theo Walcott and Alex Oxlade-Chamberlain also pushing for a starting slot.
Roy Hodgson's 4-4-2 formation relies on the threat from either flank and the AC Milan man could find himself up against Young should Italy switch to a back four, rather than their usual three.
"England have quick players who find it easy to cross and have great attackers who are very strong," he said. "But, with serenity, we have to impose our game, even if we all have to suffer a bit together."
Abate has isolated Wayne Rooney as England's chief threat, the Manchester United marksman grabbing the winner as he returned from suspension in the 1-0 victory over Ukraine in Donetsk that saw England top Group D.
"I don't know," the 25-year-old said when asked if Italy go into the game as favourites. "They too have great enthusiasm and an attacker like Rooney, but we are confident that we have a great squad.
"The English are physically strong. We must defend and attack well. They started as underdogs, but now believe they can get to the final. We too must nurture this dream.
"We have no fear. There is tension, but we need to be as relaxed as possible, and aware of our potential."
Italy have defensive concerns ahead of the last eight showdown in Kiev after Giorgio Chiellini was ruled out with a thigh injury. Thiago Motta is also struggling with a hamstring strain. But Abate is confident Italy's depth of squad is good enough.
Abate said: "Giorgio is a very important player with international experience and strong physique but I'm sure whoever replaces him will be good enough to have a great game."
Deprived of Domenico Criscito before the tournament began due to his implication in an ongoing match-fixing investigation, Italy are set to start defender Leonardo Bonucci on Sunday.
Bonucci's name has also been mentioned in connection with the police investigation and he has been questioned by prosecutors but he insists he is just concentrating on the task at hand.
"I was just thinking about playing football," said the Juventus centre-back. "I said everything I needed to say in Bari."