England v Italy
Johnson: We're not focused on Mario
Defender says England are not focused on Balotelli threat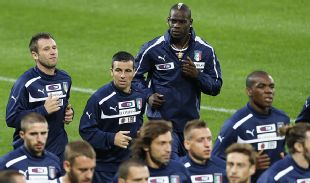 Glen Johnson says England are not worried about whether Mario Balotelli starts Sunday's quarter-final with Italy.
There has been much talk in the build-up surrounding Balotelli, who scored for Italy against Ireland after coming off the bench, with suggestions he could be the decisive figure in the game.
Johnson, though, said he does not mind whether he comes up against the Manchester City man as Italy's alternative options could be just as dangerous.
"Mario's a fantastic player but they've got a squad of 23 good players, so we're not going to worry about one individual," Johnson told reporters.
Asked if he would look to provoke Balotelli during the match, he said: "I personally don't go into games thinking about that. It's just another game and you concentrate on yourself and try to do your own job well. Mario obviously can switch and play a major factor in most games, whether good or bad."
England have adopted a defensive approach under Roy Hodgson, and Johnson is hopeful that it can see the team to victory.
"We'll just try to set out to be hard to beat and we've got some fantastic players in the side who can hurt any defence," he said. "Any team that's in the tournament's got a chance of winning it. The first objective was to get out of the group and now it's a one-off game, and in a one-off game you can beat anyone."
Steven Gerrard has excelled as the new England captain at Euro 2012 and Johnson said of his Liverpool team-mate: "Stevie's been a fantastic player for many, many years. With the armband I think he feels he needs to step up just that tiny bit more and he's done that more than anyone so far."