Portugal news
Postiga to miss semi-final
Hamstring strain threatens Euro 2012 hopes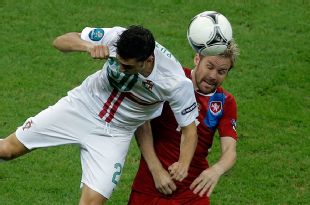 Helder Postiga will miss out on Portugal's Euro 2012 semi-final encounter with either Spain or France, having suffered a hamstring strain against Czech Republic.
Postiga, 29, had been Portugal's starting centre-forward for the tournament so far, but could be ruled out of Euro 2012 completely depending on results of his scan on Friday.
Should he be unable to recover, it is likely that Hugo Almeida will take his place in the starting line-up for the remainder of the tournament, having appeared as a replacement on Thursday night.
Team doctor Henrique Jones said: "We are going to evaluate the extent of the injury more closely tomorrow (Friday). But, even if it is not a serious one, it looks inevitable he will be out of contention for the semi-finals. We are going to do all we can to ensure we get him back for the final (should we make it)."
Despite having scored just once at Euro 2012, Postiga's absence could be a major blow to the side's hopes of success, with the forward's mobility important to the team set-up.