Germany news
Low: Spain still the favourites
Germany coach says Spanish can always find "some kind of goalscoring move"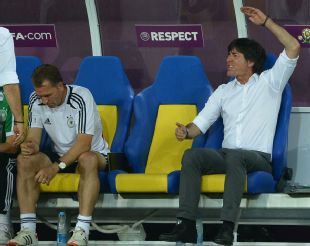 Spain remain hot favourites to win Euro 2012 and complete a successful defence of their trophy, Germany coach Joachim Low has insisted.
- Alvarez: Payback time for Spain?
Although many observers have bestowed the favourites tag on Low's side – who emerged from Group B with a 100% record to set up a quarter-final against Greece on Friday – the coach is adamant that the Spanish remain the team to beat.
Germany, beaten by Spain in the Euro 2008 final and the 2010 World Cup semi-final, saw off Portugal, Netherlands and Denmark to finish top of Group B, and also won all ten games in their qualifying campaign.
Vicente del Bosque's Spain were less convincing in the group stages, clinching their place in the last eight after a nervy win against Croatia that had been preceded by a 1-1 draw against Italy and a 4-0 hammering of defensively hapless Ireland.
But Low said: "I have watched Spain twice and they are absolutely world-class with the combinations they have. They have just suffered the same fate as many other teams here – you have opponents sitting very deep and trying to disrupt your rhythm.

"You can still rely on Spain to pull off some kind of goalscoring move. They have fantastic players: Iniesta, for example, is a product of a great footballing culture. Spain always were, and remain, the favourites to win the tournament."
Speaking during the group stages, Low responded to critics who claimed Germany had eased off the slick and attacking football that has become their trademark in order to concentrate on a more pragmatic approach.
He said his team remained committed to being positive but had been forced to be more patient because of opponents playing a defensive game.
"You end up with more possession and control playing the ball wide, but that is the consequence of opponents sitting deep," he explained. "In all our games, we have shown our ability to create chances by getting into finishing positions - so attack remains at the centre of our footballing philosophy."
Meanwhile, the former England coach Fabio Capello has predicted a Spain-Germany final, saying: "I worked with England for four years and I can't easily forget that. However, Spain and Germany will be the two finalists at Euro 2012.
"Germany have an incredible spirit and real strength, while Spain are the side who play the best football, even if they are missing something in attack – they need a player like Lionel Messi. Generally speaking, I think that these two sides are superior to the rest of the teams in the competition."