England v Italy
Parker: England believe in ability
Ukraine win has boosted England's confidence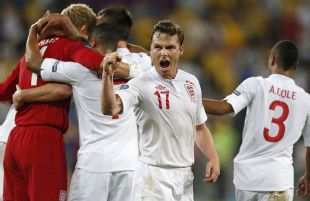 Scott Parker says that England have enough "commitment and belief" to get them through a tricky quarter-final against Italy.

England beat Euro 2012 co-hosts Ukraine 1-0, despite not playing particularly well, to top Group D and avoid a clash with reigning European champions Spain, who are widely expected to reach this year's final.

Parker, who has become one of the mainstays of England's midfield, acknowledges the superior technical ability of teams such as Spain, but claims England have other qualities to call upon.

"Belief and believing in what you can do goes a long way in general life, not just in football," Parker told thefa.com. "This squad has shown that if you believe, you're positive and you're confident you can do well.

"We now look forward to the quarter final against Italy. We get an extra day now, which is key for us. We'll go and prepare for that game like we've prepared for all the others, and hopefully we can get the result."

England are unbeaten in five games under new manager Roy Hodgson, have conceded just three goals and, crucially, have become difficult to beat.

"Everyone talks about Spain and how great they are at passing the ball. Not every team is as good as Spain, that's the reality," Parker added. "There's not many teams who have been as good as Spain since I've been alive.

"To think we are all of a sudden are going to turn into that is not what it's going to be. We are what we are, we're committed, we've got a good base, a good bunch of lads and with that you can go a long way.

"The more we progress, we put more pressure on ourselves. We'll keep taking it step by step and then who knows?"
Parker is playing in his first major international competition but has been the ideal foil for skipper Steven Gerrard in helping England set up Sunday's quarter-final.
Parker said: "I think myself and Stevie have clicked really well this tournament. We're well organised. I know his game pretty well now and I'm sure he knows mine. We give the team a good base to work from, and hopefully we can maintain that.
"Stevie is one of the best midfielders in the world. That's been the case for many years and he's been the best in the Premier League.
"We lost some big players who had to drop out through injury like Frank and Gareth, which was disappointing. But myself and Stevie have taken on the challenge and hopefully we can carry on."
England face Group C runners-up Italy in Kiev on Sunday and Azzurri coach Cesari Prandelli expects a tough game.

Prandelli said: "England have a lot of spirit and they have some very skilful players."