Spain v France
Del Bosque relishing French test
Spain coach looking forward to quarter-final against Les Bleus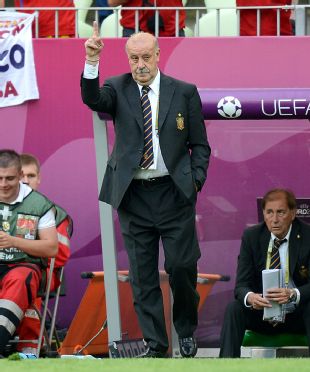 Spain coach Vicente del Bosque says he is looking forward to a "huge match" against France, who were pitted against the European Champions in the quarter-finals after losing 2-0 to Sweden.
France had been expected to win Group D and avoid a clash with the Spanish but a wonder goal from Zlatan Ibrahimovic helped condemn them to defeat in Kiev and the runners up spot behind England.
Despite the slip by Les Bleus, Del Bosque has warned Spain against any complacency when the meet the French on June 23.
Del Bosque told Radio Marca: "What I don't want is this Spanish custom that we don't have to be careful of the opponent. It is a huge match, a match that appeals to everyone.
"We have time to think about the team we will pick on Saturday and we will adopt the line-up we believe will be the best."
The two sides last met in a friendly prior to the 2010 World Cup, when goals from Sergio Ramos and David Villa handed Spain a 2-0 win at the Stade de France, but Del Bosque is aware of how much the French side has changed in the intervening two years.
"We know the equality there is in the competition. Any team is difficult but France are playing well and have a good team.
"They have made changes that have got results. They have got the formula right and Karim Benzema, Hatem Ben Arfa, Samir Nasri, Florent Malouda and Franck Ribery are all very good players.
"Moreover, we are going to have a triple ration of France in a short time because we meet them in the qualification group for the World Cup. The competition is like this and we have to accept who we have been paired with."
Del Bosque was however very defensive of his side's display in the 1-0 win over Croatia in their final group game, in which they failed to find their normal rhythm for large spells and were even thankful to Iker Casillas for a fine save from Ivan Rakitic.
"We had 70% of possession, we shot on goal 16 or 17 times and they had only seven or eight attempts," he said. "We dominated more than Croatia and we didn't play badly. We weren't as bad as it appeared to me at the time.
"It was an awkward game for us. We had a lot of compliments rained down on us the week before and there was a stream of comments that we were superior to the rest.
"The conservatism that sometimes doesn't lead to great football could have cost us and possibly we didn't have a lot of penetration but in defence we were pretty good."