Italy news
Prandelli set for Balotelli talks
Striker showed dissent with celebration against Ireland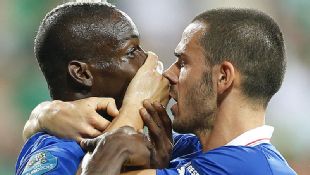 Italy coach Cesare Prandelli has said he will follow up Mario Balotelli's goal celebration against Ireland, even if the striker is not causing any problems for the team.
Balotelli, 21, appeared to respond to his goal by gesturing and shouting towards the dugout, before team-mate Leonardo Bonucci stepped in to stop the situation escalating.
Prandelli says he does not know if Balotelli's actions were aimed at him, following the Manchester City striker's relegation to the substitute's bench, but believes that Bonucci's actions demonstrate the side's togetherness.
"I don't know if Balotelli was upset with me, I will ask him,'' Prandelli told a press conference on Tuesday. "But from Bonucci's gesture you can see the team spirit in the group.
"Why didn't he (Balotelli) celebrate the goal? That has to be something spontaneous. Perhaps he is not able to express the joy he feels inside. He is like that, he has always been like that but that doesn't mean he is detached from the group.''
Prandelli was, though, impressed with Balotelli's contribution to the game, adding: "When he entered the pitch he did what we asked him to do. In order to take that leap and become a champion, Balotelli has to go through this moments.
"He has to accept criticism, being on the bench and for the team to demand more from him. The day he understands that no-one wants to hurt him but rather that everyone is helping him, then we will have in Italy a champion."
With Italy unaware of who their quarter-final opponents will be, Prandelli paid tribute to all three possible teams they could face, without expressing a preference for any side.
"France is a team to fear,'' Prandelli said. "They play a very interesting 4-3-3 formation, with three modern strikers that don't give many reference points. England is a team that never gives up and now it has found interesting players. Ukraine have a great team spirit and their counter-attacks are very dangerous."