Croatia news
Croatia hit by UEFA fine
Punishments given for racist incidents and flare throwing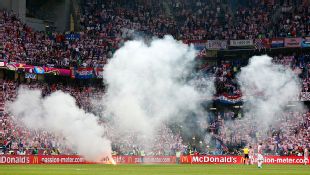 UEFA has announced that the Croatian FA will be fined £65,000 for "the setting-off and throwing of fireworks and the improper conduct of supporters (racist chants, racist symbols)" in Thursday's fixture with Italy.
The game in Poznan was marred by crowd problems, with flares thrown onto the pitch on more than one occasion, as well as monkey chanting directed at Italy striker Mario Balotelli.
The punishment for racist chanting is the first official UEFA charge over racism at the tournament, with previous incidents dropped due to lack of evidence. The official observers present at the game report a group of 300-500 Croatia fans participating in the abuse.
The fine for the respective incidents come only a day after Niklas Bendtner was fined £80,000 for the advertising of a betting company on his underpants, as well as imparting a one-match ban. The company have since stated that they will cover the cost of the fine.
UEFA said in a statement: "The Croatian Football Federation (HNS) has been fined €80,000 for the setting-off and throwing of fireworks, and the improper conduct of supporters at the UEFA EURO 2012 Group C match against Italy in Poznan on Thursday 14 June. An appeal can be lodged against this decision within three days of the dispatch of the reasoned decision."