Poland news
Poland confirm exit of coach Smuda
President of football federation says several have expressed interest in role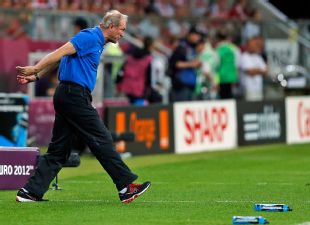 The Polish Football Federation (PZPN) has confirmed that the national coach Franciszek Smuda will leave his post following the co-hosts' elimination from Euro 2012.
On Saturday, Smuda, 63, announced that he would stand down after Poland were knocked out from the competition by a 1-0 defeat to Czech Republic in their final group game.
Grzegorz Lato, the president of PZPN, confirmed that Smuda would be leaving, saying he "will not continue his work with Poland" once his contract, which began in October 2009, expires at the end of August.
Speaking on Tuesday, he said: "Before this press conference, I met Franciszek Smuda and spoke about the future. We agreed that he will not continue his work with Poland."
In the aftermath of the Czech defeat, Smuda had told TVP: "This is the end of my adventure. Thank you all. For these two and a half years, we have created a team we can count on in the future. They were not perfect, they were not as good as we imagined - but this is football."
Lato said the Polish football authorities have already received expressions of interest from several managers eyeing Smuda's role, adding: "We've had some offers from [other] European countries, but also one from Brazil.
"We haven't started negotiations yet, but it's true that we don't have much time before the World Cup qualifiers start in September."