France news
Blanc sticking to guns
France coach will not compromise style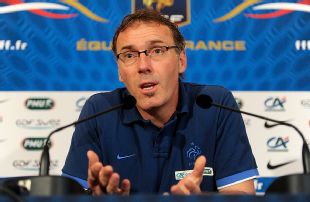 France coach Laurent Blanc has insisted his side will stick to their guns at Euro 2012, rather than adopt the more pragmatic style of rivals England.
Speaking ahead of France's final group stage clash with Sweden, which will decide whether Les Bleus can top Group D, Blanc said he will not compromise his team's style.
Blanc's side were held to a 1-1 draw by a defensive-minded England side last week, but the Tottenham-linked manager insists it is better to go out trying to win the game, rather than prevent defeat.
"The English just sat back and waited for us to come at them. But there is nothing worse than failing to achieve your objective by not playing," Blanc said at a press conference.
"So if we want a result against Sweden, we need to play football. Before we start to think about scoring a lot of goals to improve our goal difference, we first need to ensure we win the game."
Blanc was also at pains to stress that his side would not underestimate Sweden, following their opponents' opening two defeats.
"We need to be very serious in the way we approach this game, as there is always a fear you will take your eye off the ball and pay the price - like we did early on in the Euro qualifiers," Blanc added.
"There was a lot of satisfaction after the way we beat Ukraine last week but I have told the players we need a similar performance against Sweden. We are playing against a team that can't qualify but they'll still want to win.
"We have a lot of respect for them. I saw both of their games against Ukraine and England and they were the better team in both matches. We're aware of what we want to achieve in this competition, so I'll pick my strongest possible team and hope that will be good enough for victory."