England 1-0 Ukraine
Hodgson: We exceeded expectations
Coach pleased as England top group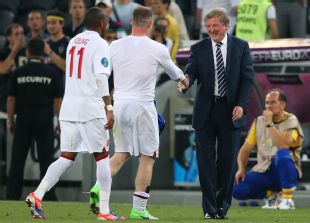 Roy Hodgson said he was surprised to see England navigate the early matches of Euro 2012 so smoothly after his team sealed top spot in Group D with a 1-0 defeat of Euro 2012 co-hosts Ukraine.
Wayne Rooney, returning from a two-match suspension, scored the only goal of the game to send England through to a quarter-final clash with Italy on Sunday.
England were fortunate not to be pegged back in the second period when John Terry appeared to clear Marko Devic's shot after the ball had already crossed the line. But on the whole, Hodgson felt that England were good value for the triumph in only his third competitive game in charge of the side.
Asked if the team had exceeded his expectations, Hodgson said to ITV: "Yes, absolutely. I think [the team] have been really good from the start. And if someone had said we were going to win the group, I don't think there would have been too many takers - most people seemed to think we wouldn't get out of the group.
"We've won [the group] on points, rather than goal difference, and that gives us an extra day's rest which we're badly in need of, because it was an extra-hard game for us tonight. This was an away game with a capital 'a'. There were 60,000 in the stadium, and only 4,000 brave Englishmen. So we didn't have much going for us in that respect.
"I thought it was a really good defensive, disciplined performance - and we needed a bit of luck where the ball may have crossed the line, and we got that luck and were able to carry on and win the match.
"We weren't showing enough composure on the ball when we broke out, and I think that's something we can work on and improve. But this is a fledgling team, we've not been working together for very long, and we are working on our game. Showing composure in attacking areas is always the most difficult area of football."
England captain Steven Gerrard believes his side are slowly hitting form at the right time.
Gerrard provided the assist as the returning Wayne Rooney headed home from point-blank range for the winner just after half-time and he feels an unheralded squad can continue to improve. England now face Italy in the quarter-final on Sunday.
He told ITV1: "It was a difficult group and the idea was to try and win it. No-one believed in us at the start but we're gaining momentum at the right time.
"I don't think tonight's performance was fantastic, but we stuck together, got the job done and won 1-0 against a good team. We've been criticised in the past maybe for not turning up, under-performing and we can take that, we're man enough. But you saw a reaction. When you get criticised it's not nice and you have to react by playing better and I think that's what we did.''
Rooney was visibly buoyed by his return to the side.
"Obviously I was delighted with the win and to score,'' said the Manchester United man. "I haven't scored at a major tournament for a while (since 2004) so it was nice to get a goal which won us the game.
"We stuck in well at times against a difficult crowd and overall we deserved the win.''
Asked how he felt about Italy in the next round, Rooney was more eager to stress his own side's qualities.
"I said before it doesn't matter (who the quarter-final opponents are). The main thing was to get through the group and to finish top,'' he added. "We know our qualities and what we're capable of. We've worked hard, done a lot of tactical play in training. We're difficult to beat and I don't think any team will fancy playing us."