Italy 2-0 Ireland
Prandelli: We deserved it
Italy boss relieved after sealing progress from Group C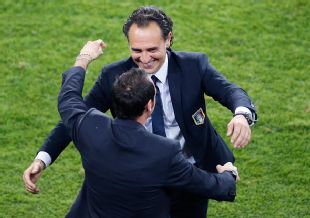 Italy boss Cesare Prandelli praised his players' determination after securing qualification from Group C with a 2-0 victory over Republic of Ireland.
Italy had led from the 35th minute through Antonio Cassano's header, but Ireland refused to give up hope and were threatening to snatch a draw until substitute Mario Balotelli hooked home a corner in the 90th minute.
"This was a very, very difficult game, as we faced a great team with great fans," Prandelli said. "This is sport. We accepted suffering in some moments, but we deserved this. Today we probably understood that we have to put beyond quality and style also determination. We can achieve anything with this heart.
"We really wanted this victory and at the end of the day I think we deserved to go through. Now in the quarter-finals we must maintain the same attitude, effort and spirit of sacrifice. We always try to play good football and hope to make more of our chances."
While Italy won the match, their destiny was controlled by events in Gdansk. Italy had led the group until Spain scored a late goal against Croatia, and had Slaven Bilic's men made it 1-1 it would have left Italy in third place.
Goalkeeper Gianluigi Buffon said: "I've been relaxed for the last four days, as our only concern was our match. This is because I was absolutely convinced Spain would win their game and we must thank them.
"I was relaxed, as knowing Spain they would be likely to keep the ball for the final minute. They didn't? Lucky I didn't watch it, then!
"As I said to the Dutch four years ago, who beat Romania to help us through, we will always keep a fondness for them. I might retire in a few years, but we must remember that."