Ukraine news
Voronin: This is our biggest match
Striker says England clash crucial for players and for country as a whole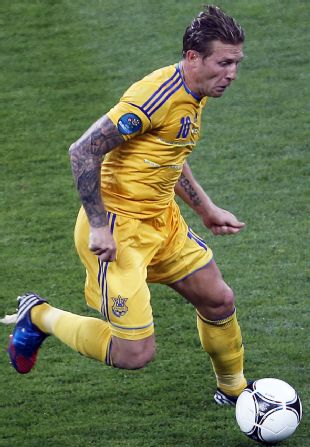 Ukraine striker Andriy Voronin has said Tuesday night's final group game against England is the biggest in the country's history.
Victory in Donetsk would put the co-hosts into the last eight and striker Voronin believes the match is crucial not only for the players but also for the country as a whole.
"For us it is the last chance," he said. "We need to win. We want to go to the quarter-finals, and we will try to do everything.
"I think it is the biggest game in the country's history. For us it is a very important game, not just for the whole team but for the whole country."
He said Ukraine's players wanted to avoid the fate that befell their fellow co-hosts Poland, who crashed out at the group stage after losing their final match to Czech Republic.
"When we beat Sweden [in their opening game], there was a great atmosphere in the stadium, and we won, and the whole country was very happy," he said. "We want to do the same against England.''
Voronin warned that Roy Hodgson's team – who need just a point to go through – would be boosted by the return of Wayne Rooney after the Manchester United player completed a two-match suspension.
"We know Rooney will be playing against us, and he is a very important player for England," he said.
Ukraine's key forward Andriy Shevchenko faces a battle to be fit. Shevchenko, who scored both goals in the win over Sweden, missed Sunday's open training session in the Metalurg Stadium with a knee problem.
"I don't know how badly Shevchenko is injured," Voronin said. "He has two days to recover, and we hope he can play.
Oleksandr Hlyvynskyy, Ukraine's media manager, said: "Shevchenko got two kicks on the knee - the first one against Sweden in the second half and the second one against France.
"There is water on the left knee. He is doubtful, yes, but the doctors are giving him some treatment. He couldn't train on Sunday. I don't know if he will train tomorrow. We will see what happens."
But the national team doctor Leonid Myronov said there was cause for optimism, insisting that Shevchenko's injury situation "is not so terrible."