Portugal 2-1 Netherlands
Van Marwijk: 'We blame ourselves'
Coach blames little details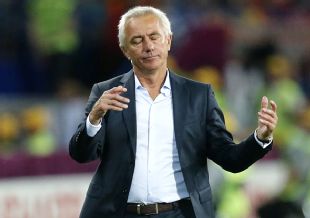 Netherlands coach Bert van Marwijk has blamed "simple mistakes" for his side's exit from the first round of Euro 2012, following a 2-1 defeat to Portugal in the group's final game.
Van Marwijk watched his side fall to three defeats in the group stage and admits that the opening loss to Denmark damaged his side's morale, having entered the tournament amongst the favourites.
"We really have to blame ourselves. We made incredibly simple mistakes," said Van Marwijk post-match. "It is going to annoy me. I have also failed, not only the players.
"It's all dependent on little details. If you start with a defeat to Denmark then the atmosphere is not good. But that could also have changed. We were on course, we are leading 1-0. We should have held the lead longer, but we couldn't.
"We played well to make it 1-0, but we made an individual error and Portugal got back into the game. That caused uncertainty in the team," said Van Marwijk. "The players who usually make a difference for us didn't reach that level. We're disappointed, it wasn't a good game.
"Things can change very fast - Ronaldo took a lot of criticism after the first two games here but tonight he was decisive."
Netherlands captain Rafael Van der Vaart added: "We lost three games and we didn't deserve it. You could say: 'You've had so many chances', but we weren't able to do anything with those chances.
"We all played badly, we all have to take a good, long look in the mirror. All we can say is that it's sad for our supporters."