Ukraine news
Shevchenko doubt for England
Ukraine captain misses training on Sunday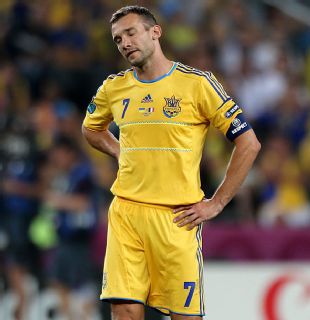 Ukraine face a major selection dilemma ahead of Tuesday's final group encounter with England, as captain Andriy Shevchenko missed Sunday's training session with a knee injury.
Shevchenko, 35, had been a doubt for his side's tournament opener against Sweden, but led his side to victory with a fine brace as Ukraine emerged victorious.
However, with blows to his knee sustained in both games, Shevchenko is now rated 'doubtful' for Tuesday's decisive Group D encounter.
Ukraine media manager Oleksandr Hlyvynskyy confirmed: "Shevchenko got two kicks on the knee, the first one against Sweden in the second half and the second one was against France.
"There is water (fluid) on the knee. Is he doubtful? He is doubtful, yes, but the doctors are giving him some treatment. We hope he will be fit but now he can't train today. I don't know if he will train tomorrow. We will see what happens.''
Ukraine team doctor Leonid Myronov painted a more optimistic picture regarding the 35-year-old Dynamo Kiev forward who has been linked with a move to Major League Soccer in the United States.
He said: "Shevchenko is doing some work with the medical people now and the situation is not so terrible.''
Ukraine midfielder Anatoliy Tymoshchuk is hoping the team's captain will be fit to lead the side, saying: "Shevchenko is a little bit injured but I don't think it is that bad. He is a big player of our team and we hope he can play. He is the goalscorer and it will be very good for us if he could play.''
Ukraine currently lie third in Group D on three points, behind France and England who have four points from their two matches and must win to progress or hope for a French defeat. However, Sweden find themselves bottom of the group, yet to win a point from their two fixtures.