Netherlands news
Afellay remains positive
Dutch winger hopes for a miracle in Group B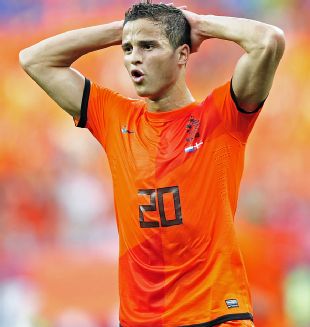 Netherlands winger Ibrahim Afellay remains confident they can make it through to the quarter-finals of Euro 2012 despite needing a favour from Germany.
In order to make it out of Group B, Netherlands not only have to beat Portugal by at least two goals, but they also need group leaders Germany, who only need a point to secure that position, to win against Denmark.
Few are giving the Dutch much hope of getting out of the group after a horrendous campaign which has seen them lose both matches to Denmark and Germany.
Afellay told UEFA.com: "We have a lot of belief, of course. If you don't believe in a positive outcome you shouldn't play in the match. Despite losing twice we still have a chance of going through and that says something; maybe it was meant to be like this.
"We still have the possibility of going through, so the boys are very focused. We have to grab this chance with both hands, and we know exactly what we have to do – win by at least a two-goal margin and then hope that Germany win.
"Portugal are a top team. Individually they have a lot of quality and up front, especially, they have a lot of power, speed and goalscoring potential. But then so do we. It should be an intense match because they are also playing to go through. It could be a spectacular encounter.
"A draw could be enough for Portugal, but I don't think they have a team that can play for one. It will be an open match. During the match you're only busy with one thing and that is to make sure that you win the game, in our case by at least two goals. However, I'm sure the people on the sidelines will keep the players informed [of what's happening in the other game].
"For us it's very disappointing that we have lost both matches so far, but I can understand how much our fans – who have stood behind us all the way – are also upset. So we want to do everything we can to still go through for them."
Afellay is one of the players whose position in the team is in doubt after he was pulled off at half-time against Germany. He barely played this season for Barcelona due to injury.