Croatia v Spain
Croatia and Spain assure Italy
Group C leaders both deny speculation over engineered result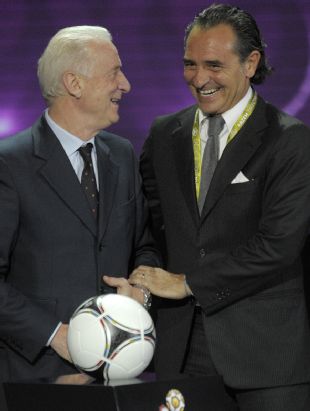 Croatia and Spain have reacted angrily to suggestions they could engineer a result to send Italy home.
Italy are currently third in Group C, two points behind the two group leaders, and while they are favourites to beat Ireland in their final game, they would be certain to finish third if Croatia and Spain played out a 2-2 draw.
Italy have been in this position before, with Sweden and Denmark's 2-2 draw in the final group game of Euro 2004 condemning the Azzurri to an early exit, and there has been much talk of another biscotto this time around.
Croatia boss Slaven Bilic, though, has dismissed any suggestion that such an agreement could take place.
"I can guarantee that I and my players are men of sport," Bilic said. "We will never take an option like this into consideration. Never! To claim the contrary is an insult to me, to my players and my country. We are Croatian and we are proud.
"Besides, 2-2 is a result, just like a victory or a defeat. It means nothing more than that. I'd hate to be in Italy's place right now. They have to beat Ireland and that is not a given, as nobody wants to go home with three defeats.
"We are athletes, parents and children. It's out of the question we would agree a result with Spain. Don't forget Italy are far weaker a side than Spain..."
Spain defender Raul Albiol also insisted that both teams would go in search of the three points to ensure first place in the group.
"Spain will go to win as always, as will Croatia, and Italy also have to win their game," he told Marca. "Everyone will go out to achieve a victory so that we are not depending on others. Therefore there is no kind of pact - to say so is nonsense.
"There has been a lot of talk about a 2-2 result but I think Spain always try to win every match, so the Italians should be calm because we are going to go for the three points to take us on to seven and qualify first in the group."